New Year Honours: Martyn Williams MBE and Dannie Abse CBE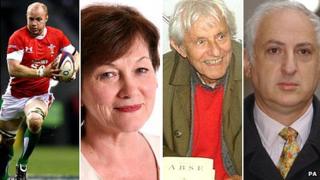 Wales rugby star Martyn Williams has been recognised in the Queen's New Year Honours list.
The Wales and Cardiff Blues flanker becomes an MBE for services to rugby.
Poet and playwright Dannie Abse becomes a CBE, as does entrepreneur Peter Thomas and former Welsh Liberal Democrat leader Lord Carlile.
Others recognised include Anglesey school caretaker Bob Owen and Caerphilly foster carers Patricia and John Bonthron.
Martyn Williams, 36, is one of Wales' longest-serving players, with 99 international caps.
He retired from the international stage in 2007, but was persuaded to resume Wales duties by coach Warren Gatland the following season.
He had hoped to reach 100 international caps when a call-up to the Rugby World Cup squad in New Zealand looked possible, before he broke his arm in September while playing for the Cardiff Blues.
Poetry and pies
His club chairman, Peter Thomas, becomes a CBE, for services to entrepreneurship, sport and charity in Wales.
Mr Thomas and his brother Sir Stanley Thomas moved into business after their Stan launched his food company in the south Wales valleys. The brothers then built up Peter's Savoury Products before selling the business in the late 1980s and becoming involved in property and airport developments.
Former Wales coach Graham Henry, who led New Zealand to victory in the 2011 Rugby World Cup, was made a Knight Companion of the New Zealand Order of Merit.
Poet and playwright Dannie Abse also becomes a CBE, for services to poetry and literature.
Dr Abse won the Wales Book of the Year in 2008 for The Presence, which he wrote after his wife died in a car crash.
"When you've been given a compliment, I've learnt to say thank you," said the poet.
He said he no longer regarded poetry as a "gentle pursuit": "It can be rough in many ways too, because you have to go into the darkness of oneself as it were, to come back with some light.
He said the honour also let him reflect on his late brother, Leo, who died in 2008 and was known as a social reforming MP for Pontypool and then the new constituency of Torfaen.
"I've been thinking along with Welsh MPs like Paul Murphy and others, that some public posthumous acknowledgement should be made for the significant contribution made by my brother in his parliamentary bills. No decorations came his way.
"I don't know what he would say about me accepting it, I must say - I think he would have congratulated me."
Lord Carlile of Berriew QC is also made a CBE for his services to national security.
The 63-year-old former Lib Dem MP for Montgomeryshire has served for 10 years under both Labour and the UK coalition governments as the independent reviewer of terrorism legislation.
Another politician to be honoured is Joan Ruddock, 68, who becomes a dame.
Born in Pontypool and educated at Pontypool Girls Grammar school, she became MP for Lewisham Deptford in 1987, serving in both Tony Blair and Gordon Brown's cabinets.
Prior to entering parliament, she was chair of the Campaign for Nuclear Disarmament.
Among other recipients is Neil Robinson, from Bridgend, coach of the GB Paralympic table tennis team, who receives an MBE for services to disabled sport.
He said: "It makes me feel immensely proud.
"When we received the news I really got a real good warm glow, a real sense of pride that I'd been recognised for something that I have been involved in for so many years."
Community winners
Bob Owen, from Holyhead, Anglesey, caretaker of Llanfawr Primary School, is awarded the MBE for services to the community.
He has worked as the caretaker for nearly 27 years, and said he was "shocked" and "overwhelmed" to learn of his award.
He was rewarded because of all the extra work he performs, including helping at summer fetes.
He was also instrumental in making sure the school had a new minibus.
He said: "I took some children in my car to a cricket match and on the way back I saw this minibus passing me... and I said 'oh, I must have one as well for ours', and within about four weeks there was a minibus in Llanfawr School."
He added: "When you have been here 27 years, it all touches you.
"I have been grateful for the opportunity to be a caretaker of Llanfawr School."
Hugh Evans, leader of Denbighshire council, is named as an OBE for his services to local government.
Mr Evans took over leadership of the authority four years ago after a difficult period which saw its education services heavily criticised.
He said: "It was a big challenge, but an exciting challenge."
Former garage owner George Green, 82, is to receive the MBE for services to the community in Haverfordwest, Pembrokeshire, where he has raised money for various charities including the Noah's Ark Appeal.
In Caerphilly county, foster carers Patricia and John Bonthron are to become MBEs for services to children for nearly 30 years.
Mrs Bonthron, 71, who has run a nursing home and playgroup, said they found fostering rewarding and intended to continue for as many years as they were fit and able.
"When they go back home to their parents, it's rewarding to see them going back and coping with it all," she said.