Cardiff City FC on top of football banning order table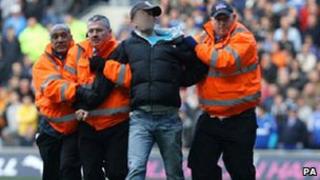 Cardiff City football fans have more banning orders than supporters at any other club in England and Wales, Home Office figures show.
Cardiff has 143 orders in place which ban fans from matches, followed by Leeds with 106 and Chelsea with 105.
However, football-related disorder arrests at Welsh clubs fell.
South Wales Police said the fall in arrests at Cardiff games reflected well on fans, police and stewards and all could be "very proud of themselves".
Police said the "high number" of ban orders reflects "proactive work".
The banning orders are issued by the courts following a conviction of a football-related offence, or after a complaint by the Crown Prosecution Service or a local police force.
They can last between three and 10 years.
Cardiff City had 61 new banning orders imposed in the last year, taking its total to 143 - more than larger clubs like Manchester United, which has 101 banning orders and Chelsea, which has 105.
Swansea City has 76 orders in place, an increase of seven in the last year.
Wrexham (14), Newport County (12) and Bangor City (three) have all seen drops over the last year.
But across England and Wales, arrests for football-related disorder are at a record low, the Home Office statistics show, with just over 3,000 people arrested last year.
In Wales, Cardiff City's arrests fell from 117 in the 2009-10 season to 44 in 2010-11, while Swansea's arrests went down from 63 to 35 and Wrexham's dropped from 12 to six.
The majority of arrests were for public disorder and alcohol offences, although Swansea and Cardiff each had one incident of racist or indecent chanting.
'Police-free matches'
Cardiff City chief executive Alan Whiteley said the club was continuing to work hard to eradicate anti-social behaviour at its fixtures.
"We recognise that a partnership approach between the club, fans and South Wales Police has enabled much progress to be made.
"This advancement, which coupled with a specifically designed stadium has seen arrests for home league games again being measured in single figures for the second year running.
Cardiff City manager Malky Mackay told BBC Wales the figures highlight the "zero tolerance" approach to disorder, but claimed the club has made great strides to tackle the problem over recent seasons.
He said: "I can only touch on the football club since I've been here and when I go to our stadium and walk about it looks like an environment I would want to bring my children to."
South Wales Police spokesman added: "The latest arrest figures speak for themselves, showcasing Cardiff City Stadium as a safe and family-friendly venue in which to watch football. "
It attributed the drop in arrests to the good behaviour of the fans, the stewarding and effective policing.
"All those involved can be very proud of themselves," added the spokesman.
He said the force would "relentlessly pursue and prosecute" offenders in south Wales or around the United Kingdom.
Vince Alm, chairman of Cardiff City Supporters' Club, said the arrest figures told a truer story about Cardiff's current supporter record, rather than the banning orders, which may relate to crimes from previous years.
"For years it's been improving," he said. "We are getting bigger attendances but arrests have gone down, so it shows we're going the right way.
"The trend is good. You go to the Cardiff City Stadium now and you don't really see any trouble there. In fact, 50% of our homes games are now police-free, with just stewards and police in the control room being used.
"But we are still sometimes heavily policed at away games because of of the perception of the club that some forces still have."
He said fans had been working proactively to stop the disorder that has seen the football club in the newspapers for all the wrong reasons in the past.
"We have regular meetings to talk about matches and fans have basically been policing themselves - if they see someone behaving inappropriately, they tell them they're letting the club down," he added.
Mr Alm also said he believed the high number of football banning orders was most likely the result of a "one-off" incident at a Chelsea v Cardiff FA Cup game in 2010.
On Thursday, two Chelsea fans, aged 48 and 50, were given suspended sentences and four year banning orders for disorder at the match.
In all, 93 supporters have pleaded guilty or been found guilty of disorder or affray after the game around west London's King's Road.
The Metropolitan Police said there had been a "tireless and vast investigation".
Edmund Hall, of the Crown Prosecution Service, said: "This was old fashioned organised football violence and at its heart were habitual long term football hooligans."
The Home Office said the latest figures are a major success story with progress being made at both international and domestic levels of football.
It said football banning orders continued to have "a positive effect" a decade after their introduction.
A spokesman said the success was also due to the "great strides" police had made in working with the football community and a change in attitude by fans themselves.
The figures relate to the Premier League and Football League in England, as well as a number of non-league competitions in England and Wales, European club matches and internationals.