Church metal thefts in Wales rise five-fold in two years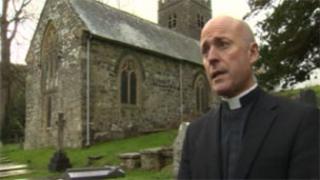 The number of metal thefts from churches in Wales has risen more than five-fold in the last two years, figures show.
According to Ecclesiastical Insurance, there were fewer than 10 metal theft claims in Wales in 2009, compared to more than 50 already this year.
The insurers say claims by churches in Wales in the last five years total nearly £400,000.
Andrew Jones, Archdeacon of Meirionydd, said it was an "enormous problem".
Figures show fluctuations over recent years, which Ecclesiastical Insurance says corresponds to the price of metal.
In 2007, there were 30 metal theft claims by churches in Wales, and 50 in 2008.
The number dropped to fewer than 10 in 2009 - as worldwide metal prices dropped - but then rose dramatically the following year to more than 40, and this year there have already been more than 50.
Claims totalled more than £100,000 in 2007, nearly £130,000 in 2008 and nearly £20,000 in 2009.
Last year the cost was more than £40,000 and until the end of last month, the cost for 2011 is nearly £110,000.
Among the biggest claims was for nearly £53,000 after metal was stolen from St John the Baptist Church in Penymynydd, Flintshire, in 2007.
Archdeacon Jones said it was an "enormous problem throughout Britain", where more than 7,000 churches had been targeted by metal thieves, with more than £21m claimed.
He said: "In Wales, during the same period, about 125 churches have been targeted and almost £400,000 claimed and lost."
He said the thefts often caused damp and water damage, adding: "There was a case recently of someone stealing a lightning conductor and taking a quarter of the tower down with them at the same time.
"So, you steal one thing and it has a knock-on effect on the building."
He said many churches were now using Smartwater, an invisible liquid that leaves a traceable DNA on metal to help stolen goods make it back to their owners.
He added: "I think one of the most important things is just vigilance, neighbourhood watch - making sure that if you are passing a church, keep an eye on it, particularly those who live close to the church.
"I think we need to make sure that we don't make it easy for those who steal metal."
A spokeswoman for Ecclesiastical Insurance said: "The number of claims is quite strongly related to the price of metal in world markets.
"In 2009, the price dropped, and so did demand, and the number of claims.
"It's a pattern we see across the country.
"Last year the price started creeping up again."
In August, about £10,000 worth of lead was stolen from the roof of St Asaph Cathedral in Denbighshire - the second theft in three years.
Canon Michael Balkwill said it was "another sad example" of how some were prepared to put personal gain above respect for others and their property.