IWA says BBC Two plans could hit Welsh rugby coverage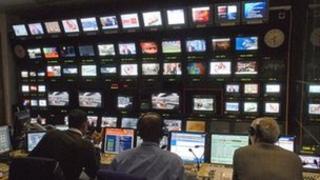 Coverage of Welsh rugby games on BBC Two could end if plans to change the way the channel is broadcast go ahead, a think-tank claims.
The Institute of Welsh Affairs (IWA) claims the proposals to reduce content from Wales when BBC Two is broadcast in high definition would mean rugby games are no longer available.
It also claims the plans could have a financial impact on Welsh clubs.
BBC Cymru Wales said rugby was a main priority for Welsh audiences.
The IWA's Media Policy Group has submitted evidence to the BBC Trust as part of the its public consultation on its Delivery Quality First proposals to make 20% in savings.
It follows the licence fee settlement agreed with the UK government in October 2010, freezing the licence fee to 2017, and giving the BBC new funding responsibilities for the World Service, S4C, BBC Monitoring and local TV and broadband.
The IWA said the BBC had not given any guarantees that BBC Two will still broadcast in standard definition after 2015.
The IWA said: "At best this proposal will result in a large share of BBC Wales output being seen as second best because [it is] only available in standard definition.
"The lack of an opt-out facility on BBC2 would impose a radical limitation on the service for Wales. BBC2 is the channel that allows BBC Wales to extend the range of its programming."
A BBC Cymru Wales spokesperson said: "Major events and sport that bring the nation together represent one of the five editorial principles of the BBC.
"For BBC Cymru Wales, coverage of sports that provide the greatest value and impact for our audiences - including live TV coverage of domestic and international rugby - is central to our delivery of this priority for the audience in Wales."