Pontypridd MP Owen Smith wants Welsh regional rugby shake-up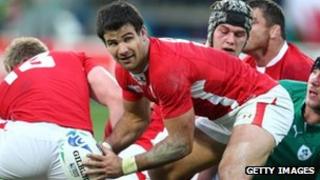 An MP has called for more regional clubs in Wales to renew interest in domestic top-flight rugby.
Pontypridd MP Owen Smith said many people had been left without local sides to support since the game was reorganised 10 years ago.
Wales' four existing regions have announced a salary cap amid fears of falling crowds and a mass exodus of players to France.
The Welsh Rugby Union (WRU) said it was working to produce a sustainable model.
The regions will spend a maximum of £3.5m on their senior squads next year.
Under the current structure the four regional teams are based in Cardiff, Llanelli, Newport and Swansea.
Mr Smith told BBC Radio Wales that regional rugby had been developed "on the back of a fag packet" and left many in Wales such as those in the south Wales valleys without a regional club to support.
He has commissioned a review into the creation of a regional presence in the valleys.
"Why could we not think about revising the structure once more?" he asked.
"It's inevitable when you have got wealthier rugby communities like in France some of our players are going to go abroad - I think that's a fact of life.
"One of the things the regions have got right is the academy system clearly works - we are generating lots of players - there is the player capacity out there to have a greater number of sides but with a different economic structure."
Mr Smith's home constituency was originally represented by the Celtic Warriors, which was formed from a partnership between Pontypridd RFC and Bridgend RFC when Wales moved to regional teams in 2003.
Despite a successful first season on the field, the Celtic Warriors were disbanded the following year as a cost-cutting measure. Since then Pontypridd has been under the administrative umbrella of the Cardiff Blues, with Bridgend being absorbed by the Swansea-based Ospreys.
The WRU also launched a development regional side in north Wales in 2010, but the company running the Rygbi Gogledd Cymru team went into administration in January 2011 because of financial difficulties.
From July 2012 each of the four remaining regional teams - the Blues, Newport Gwent Dragons, Scarlets and Ospreys - will spend a maximum of £3.5m on Heineken Cup and Amlin Challenge Cup squad members.
'Hearts and minds'
Attendances for Heineken Cup matches in Wales are well behind those in England and France.
The RaboDirect PRO12 league, featuring teams from Wales, Ireland, Scotland and Italy, have lagged well behind England's Aviva Premiership during the current season.
WRU chief executive Roger Lewis said he welcomed the wage cap and the regions and WRU were looking at many other aspects of the club game.
"We are working together to come up with a model that is sustainable," he told BBC Radio Wales.
"We have got to win over the hearts and minds of everyone in Wales to connect with our rugby.
"We continue to produce young talent... and that's the confidence the Welsh public can take."
Neil MacLean-Smith, general secretary of the Welsh Rugby Players Association: "When you attend games you can tell that there aren't as many people turning up.
"As a player performance is hugely affected by attendance. A good crowd gives you that extra percentage in terms of drive and push.
"Welsh regional rugby is running on a knife-edge and the current economic conditions have tipped it over into the negative. Regional backers are not as flush as they were two or three years ago.
"Regions and WRU need to get round the table and find a joined-up approach to putting things right."