WJEC exam rewrite after GCSE ICT paper advice problem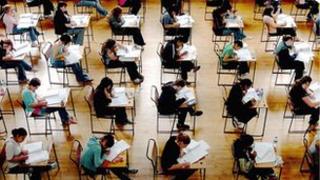 A GCSE exam has been postponed after details of some questions may have been revealed to a seminar of teachers.
Welsh Education Minister Leighton Andrews told the exam board WJEC its ICT paper, due to be sat by 11 schools in Wales and England in January, must be rewritten.
WJEC put off the exam until March and apologised for the inconvenience.
It said advice on the scope of the exam had been given to some but not all teachers at schools and colleges.
Mr Andrews ordered the Cardiff-based exam board to withdraw and rewrite the ICT (Information and Communication Technology) unit three paper after it is understood one of its examiners gave details of questions at a seminar.
It is understood that teachers at a seminar were thought to have gained an unfair advantage when they were told that exam questions would only cover four out of nine possible subject areas.
It comes after the WJEC suspended two examiners after the Daily Telegraph said it had filmed them telling teachers at a seminar which exam questions to expect.
BBC Wales understands the latest problem emerged during an internal WJEC investigation.
It affects 451 candidates who were due to sit the exam next month - 161 students at six exam centres in Wales and 290 students in England.
Mr Andrews spoke to education spokespeople from the other Welsh political parties on Wednesday.
He said: "Our immediate focus is on the need to make sure that the standards and confidentiality of exams to be taken in January 2012 and next summer, are not compromised because some teachers gained privileged information from seminars.
"At the same time, we want to ensure that candidates entered for those examinations are not disadvantaged.
"In the short term it is important that where there is any doubt about the integrity of exams, arising from an actual or potential breach of confidentiality, that urgent action is taken."
WJEC said 11 schools and colleges in England and Wales were being contacted about postponing the exam, due on 17 January, which will be rescheduled for early March.
"The decision to postpone was made after it became apparent that advice given to teachers at recent professional development events had not been available to teachers at all 11 centres with candidates for this examination," said a spokesman.
"The advice related to the scope of one of the possible areas to be covered in the exam, representing less than 2% of the qualification's marks."
'Interests of candidates'
The exam board apologised for the inconvenience to students and exam centres.
"Once we discovered that information had been given to some, but not all teachers about the scope of areas to be covered in the January exam, we advised Ofqual and DfES immediately" said Gareth Pierce, WJEC's chief executive.
"We are keen to contact the 11 centres affected as soon as possible, so that they are able to let candidates know about the postponement and reassure them that they will be able to take the postponed exam early in March.
"As always, the interests of candidates are uppermost in our minds."
WJEC has been under close scrutiny after an undercover investigation by the Daily Telegraph into professional development seminars, where teachers are given feedback on how pupils performed in previous exams.
Two history examiners secretly filmed by the newspaper have strenuously denied breaching any rules or guidelines and told a parliamentary committee last month that their words had been taken out of context.
Mr Pierce told MPs that the security and integrity of next year's history GCSE had not been compromised and it would not be withdrawn.
However, Mr Andrews has ordered a wide-ranging investigation into the system of awarding qualifications in Wales. The Welsh government is responsible for ensuring the quality of exams in Wales.
'Deeply concerned'
Conservative education spokeswoman Angela Burns said she was "deeply concerned" at the situation and called for robust guidelines as to how the WJEC would have to operate in future.
"There just seems to be a complete lack of people monitoring, checking, ensuring that the processes are carried out," she said.
"Organisations should be on top of their game. They should be able to be monitoring and knowing what is going on in their own organisation without having to be told by a member of the media.
"We need to confident of the integrity of the organisation, of the examiners and of the exam paper so that students will absolutely know they have a qualification they can lean on and trust."
David Evans, secretary of the National Union of Teachers Cymru, said the speed of the investigation was pleasing, and the public, teachers and pupils should remain confident about the exam.