Sea zoo and museum plan for Fishguard, Pembrokeshire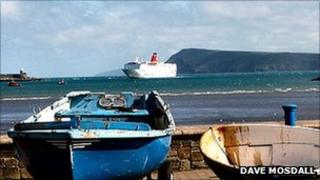 A lobster hatchery, maritime museum and sea zoo could be part of a 450-berth marina planned for the ferry port in Fishguard, Pembrokeshire.
If given the go-ahead, a cinema and seal hospital could also be built, while it is hoped an Angel of the North-style statue will be erected.
Investment firm Conygar, working with ferry operator Stena Line, is seeking planning consent for the marina.
Fishguard mayor Richard Davies said the development was "desperately needed".
Outline planning permission for the marina is being sought in January but details of what will be there are already being discussed between the companies and local people.
Lifeboat building
Mr Davies, who has been part of the talks, said it was hoped the marina would be home to a lobster hatchery.
A sea zoo is also planned and a rehabilitation centre for sick and injured seals and dolphins, which are common in nearby Cardigan Bay.
Mr Davies also said he was in discussions with Conygar about them providing a building to display Fishguard's first motorised lifeboat - the Charterhouse - which was sold in 1931, but found by local campaigners and returned to the town in 2009.
School children have joined with others in the community to restore the boat.
Something for holidaymakers
"The long term plan is to get it back to how it was," said Mr Davies.
"Part of the marina project will be to provide a building for it to go on display. We are hoping it will be part of a maritime and rail museum for the town."
He said the development would revitalise the town, which he claimed was "dying on its feet".
"To have a lobster hatchery here would be brilliant. There is one in Padstow [in Cornwall] and it is amazing," the mayor said.
"That and the sea zoo and seal hospital could be places for children to come on school trips and it would also provide something for holidaymakers to come to see.
"We would be providing attractions for visitors and that's what we need - they would be different from the places of interest in other parts of Pembrokeshire, like Oakwood.
"And we'd hopefully get day trippers from Ireland so that would be good for the ferry too."
Local opposition
A cCinema, restaurants and shops were also planned, he said, while it was hoped a sculpture, like the Angel of the North, would take pride of place.
"There has been a little bit of opposition in the town to all of this, but it's mainly been because locals were worried they would lose their slipway for their boats at the port," he said.
"But I have had a written assurance from Conygar that they will still have a slipway, which will be free of charge to locals, and a car park."
Planning permission for a marina at Fishguard was granted to the Anglesey Boat Company in 2003.
It was acquired by the The Conygar Investment Company in 2008, which is behind the latest plans.
A spokesperson said: "Conygar is keen to see the marina development become a success and that would include various business opportunities that would create jobs and attract people to the site."
Conygar previously said if granted the new application will supersede the existing planning consent and provide a development of greater scale and opportunity.
The firm claims the marina could be worth up to £100m providing a major boost to the area's economy.