Only Men Aloud choir director warns on school music 'basics'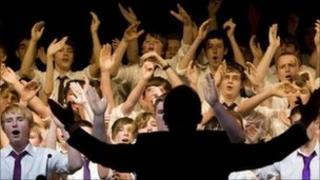 It's a week in which the Military Wives Choir released the fastest-selling single in six years, almost certainly securing the Christmas No 1 slot.
But the musical director of one of Wales' most high profile choirs has signalled a sharp warning note over the future of choral music, and how it is approached in schools.
Only Men Aloud's Tim Rhys Evans claims a "dumbing-down" of music lessons in schools means that young people lack the skills to replenish Wales' aging choral population.
This month three of the oldest and most established Welsh choirs, Treorchy Choral Society, Ebenezer Choral society in Aberdare, and Ystradgynlais Male Voice Choir, announced that this year's Christmas concerts would be their last.
They cited falling numbers and an average age of over 75.
The Welsh government insists it continues to "invest significantly in the teaching of music" and that their programmes are "having a positive impact in improving the standards and opportunities for singing in schools".
But Mr Rhys Evans believes that only pupils whose parents can afford private lessons now learn theory, or how to sight-read music, and that this is making choirs harder for young people to access.
The founder of Only Men Aloud nearly 12 years ago is now hoping recruiting younger children for their next project, Only Kids Aloud, can address some of the issues.
"Here in Wales especially, children were taught to read sheet music and understand the theory; now we're told that to make it more inclusive, we've ditched all that.
"But we've got eight-year-old boys, and girls as well now, from all sorts of social backgrounds, who are reading and singing Mahler's 8th Symphony one minute, and Plan B or Cee-Lo Green the next. All it needs is someone to believe in them."
"The single biggest factor in the death of the traditional choir in Wales is the dumbing-down of music lessons in schools," claims Mr Rhys Evans. "Young people think choirs are posh. How on earth did that happen, when for two centuries they were the music of the working man?"
"It's happened because parents who can afford to, have paid for private music tuition, making all sorts of music more and more elitist. So we're desperately trying to get the message out that choirs aren't posh, and music isn't too difficult."
During the choir's hey day - centred around the 1904/05 Welsh religious revival - there were over a thousand choirs in south Wales alone, with an average membership of over a hundred.
Today the picture is varied.
Mixed-sex choirs in urban areas are attracting new members but choral societies in the traditional valleys hotbeds are seemingly in an irreversible decline.
Sioned James founded youth choir Cordydd in 2000, conducting them to BBC Radio Cymru Choir of the Year, and winning the mixed choir title at the National Eisteddfod three times in a row between 2004 and 2006.
"Education may be a part of it but all sorts of factors are putting pressure on the traditional choir: migration away from the heartlands, greater competition for leisure time, and changing musical tastes."
"Like most things in life, the choir has to adapt to stay fresh and relevant to young people. The hymns and oratorios are important pieces, but they have to be mixed up with modern works that young people identify with."
Ms James added that people are just as keen to sing as they ever were, but that Wales as a whole is evolving, and that choirs are simply reflecting the changing face of the social groups in which we live.
The Welsh government added that it was taking forward the recommendations of a review into music education, while the education minister has recently confirmed further funding of around £250,000 for the CânSing programme.