Weather warning: Snow and falling temperatures in Wales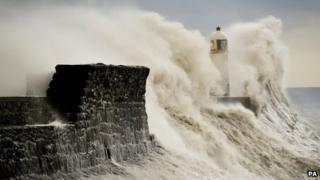 Snow is expected to fall on high ground in mid Wales overnight as the the Met Office warns more is on the way as the first significant snow of the winter.
Falling temperatures are set to leave some roads icy on Thursday morning, but the south west will see heavy showers.
The Rivers Wye and Monnow are on flood alert overnight but flood warnings elsewhere have been stood down.
A double lightning strike brought delays and disruption for rail travel across south Wales on Wednesday.
BBC Wales' weather forecaster Derek Brockway said more wintry weather could follow the freezing temperatures and hail storms which hit during the day.
He said: "For Thursday and on into Friday there's low pressure coming in from the Atlantic.
"This developing area of low pressure is going to turn nasty as it moves northeast towards southern Britain.
"At the moment, it looks like Wales will miss the severe gales but we are in for rain and snow.
"So tomorrow night [Thursday] rain will spread across Wales, turning increasingly to snow.
"In fact we could be in for the first proper snow of the winter.
"Parts of the north, mid Wales and the south Wales valleys could be hit.
"So there could well be some disruption on Friday morning with lying snow."
The Met Office has issued two weather warnings of snow on Friday with up to four inches expected on higher ground in south Wales.
The warnings come as mainline services through Cardiff to Bridgend and west Wales were disrupted on Wednesday after storms brought a double lightning strike on rail signalling equipment.
Arriva Trains Wales said services were being diverted via the Vale of Glamorgan line through Barry with extended journey times.
The delays had knock-on effects for Arriva Trains Wales' Valley Lines through Cardiff Central during the day and evening.
Bus services were provided for travel to Pencoed, Llanharan and Pontyclun.
Elsewhere, flood warnings for the lower Dee Valley in Llangollen and south Pembrokeshire during the day were stood down by the evening.
Hail on motorway
South Wales Police said 10 collisions happened in the space of an hour on the M4 on Tuesday night between the Coryton junction 32 in western Cardiff and Pencoed at junction 35 during a hail storm.
The force advised drivers to take extra care in the wet and icy conditions to prevent further accidents.
Roads Policing Inspector Jason Stroud earlier said: "Thankfully only a handful of people involved in the incidents on the M4 last night sustained minor injuries, but it is important that drivers and cyclists remain vigilant to prevent anything serious occurring.
"It can take twice as long to stop your vehicle in rain and icy conditions, so motorists should maintain a safe distance from the vehicle ahead and ensure they are using their lights.
"The heavy rain and hail at the moment is also reducing drivers' visibility, so motorists should be extra alert.
"Allow time to de-mist and de-ice your vehicles to ensure you have 100% visibility before setting off."
He also advised drivers to ensure they had plenty of fuel in the tank, their mobiles were fully charged before setting off and to carry warm waterproof clothing, food water and a torch with them in case conditions forced them to stop en route.