Leighton Andrews orders review into market for exams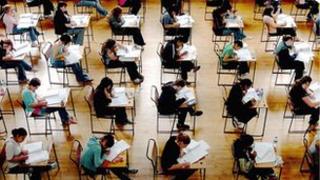 A review has been ordered into the market for qualifications in Wales after claims teachers were given unfair advice about GCSE exam questions.
It will look at possible alternative systems, including whether there should be one provider instead of competing exam boards.
It follows claims undercover reporters filmed examiners telling teachers which questions to expect.
The review is expected to take three months.
Education Minister Leighton Andrews said he was concerned about public confidence in GCSEs and A-levels.
'Impact'
He said: "My main concern is that this structure should deliver for our pupils and contribute to driving up standards.
"This review will assess how well the current system is working and whether this is having an impact on standards.
"It will also consider possible alternative models and international comparisons."
He said the Welsh government will also look at the findings of an investigation by England's qualifications regulator Ofqual.
WJEC exam board suspended two examiners after the Daily Telegraph said it filmed them telling teachers at a paid-for seminar which questions to expect.
The newspaper sent undercover reporters to professional development seminars organised by boards used by English schools, where the Welsh exam board has become more popular in recent years.
WJEC chief executive Gareth Pierce is due to appear before a committee of MPs in Westminster on Thursday.
WJEC is one of six boards that offers GCSE and A-level exams to schools in Wales, England and Northern Ireland.
It is understood the review would ask whether it would be "more effective" to have a single provider.
It will analyse whether, and to what extent, competition has had a negative impact on standards.