DVLA offices in Wales set to close and centralise in Swansea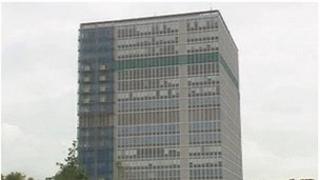 Plans to close 39 regional Driver and Vehicle Licensing Agency offices and centralise services at the DVLA's headquarters in Swansea have been unveiled.
It is thought around 400 jobs could be relocated to the city.
A consultation has started with 1,213 UK staff, including 77 in Bangor, Cardiff and Swansea.
The UK government says it could save £28m a year but union leaders called it "devastating".
The DVLA, which keeps driver and vehicle records, employs a total of 6,116.
About 5000 work at the long-established Swansea headquarters and it is thought around 400 jobs could be created there, including relocations.
Ten of the 39 regional centres include enforcement centres which carry out a range of back-office duties relating to tax and insurance offences.
These would close as well.
Roads Minister Mike Penning said he expected the centres to close by the end of 2013.
"This is a major step change which will make dealing with the DVLA easier and quicker for motorists and businesses up and down the country," he said.
"Centralising the DVLA's services is the first crucial step towards making more of its transactions available online, allowing people to deal with the DVLA at their chosen time and place.
"This will mean quicker turnarounds and meet our customers' growing needs."
The consultation with staff has already begun.
DVLA employs 77 staff in its three regional offices in Wales with 12 in Bangor, 35 at Llanishen in Cardiff, and 30 in Swansea.
'Insulting and devastating'
The Public and Commercial Services union said it feared that despite the consultation the decision had already been taken.
It warned the closures would wipe out the high-quality face-to-face services provided to the public and the motor trade.
General secretary Mark Serwotka said: "DVLA senior managers have previously denied this is what they were planning, so to announce it just two weeks before Christmas is insulting and devastating."
Welsh Secretary Cheryl Gillan said she was pleased the Swansea headquarters could become more central in delivering services for the whole of the UK.
"The proposed review of DVLA services is important in providing the right choice and flexibility for motorists to access services they require," she said.
Byron Davies AM, Conservative transport spokesman, said it was right to look at efficiency.
"The DVLA is a major local employer and it is welcome that the Conservative-led coalition is seeking to consolidate DVLA operations in south Wales," he said.
But Cardiff North assembly member Julie Morgan said she was disappointed up to 35 jobs could be lost at the DVLA's Llanishen office.
Pharmaceutical products
"I am very concerned that this local service could be withdrawn, and feel the UK government could have done much more to keep the various stakeholders informed about their plans," she said.
Hywel Williams, Plaid Cymru MP for Arfon, said it was "very unwelcome news" in Bangor.
"The timing of this announcement is horrendous - a week or two before Christmas - especially as plans were leaked more than a year ago," he added.
"This will mean a reduction in service to the public and a hit to the local economy."
Meanwhile, 36 jobs are under threat at a company in Hengoed, Caerphilly which makes pharmaceutical products.
Norgine Pharmaceuticals Limited, based in Tiryberth, has revealed it has started consultations with staff in quality control and manufacturing which will end in March.
The firm employs about 350 people.