Wrexham council to aid Royal Welch Fusiliers collection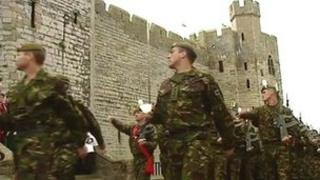 A financial lifeline to help secure a historic collection of military memorabilia has been offered by Wrexham council.
The collection of artefacts and records belonging to the Royal Welch Fusiliers Museum Trust is kept at Kings Mill visitor centre.
But the trust had warned it can no longer afford the running costs due to a change in financial circumstances.
The council's executive board agreed to a request for £15,000 in funding.
The trust is based at Caernarfon Castle but earlier this year relocated its archive, reference library and reserve museum collection to Kings Mill as a first step towards rehousing them in Wrexham Museum.
As well as the funding, council officials will also help the trust draw up a five-year business plan.
Council leader Ron Davies said: "We couldn't let this collection go from Wrexham. It's absolutely marvellous".
"We hope that it will eventually be housed in Wrexham museum but at the moment we don't have the funding," said Mr Davies.
"The collection is in storage at Kings Mill, but until we can put it in the museum we hope to work with the trust to open it up for educational purposes so that our children will benefit," he added.
Wrexham's head of assets and economic development, Steve Bayley, had recommended approval for the support.
In a report, he said that building a permanent gallery at Wrexham Museum to display the collection could not be be completed until 2018 and was dependent on funding being made available.
Alternative home
"The collection is considered to be of national importance, is a significant asset for the local community and offers substantial potential for development as a learning resource through exhibitions and educational documents associated with Siegfried Sassoon, Hedd Wyn and a series of drawings by Sir Kyffin Williams," he continued.
Mr Bayley said the trust received money from the Welsh government's heritage body Cadw to run the museum at Caernarfon but its funding had recently been cut.
Interest generated from investments was no longer enough to cover the cost of running Kings Mill.
"The chairman of the trust has indicated that unless the council can find a way to help the trust meet the cost of keeping the collection at Kings Mill by the end of the current financial year, an alternative home will have to be found," wrote Mr Bayley.
He said if that happened, it was probable the trust would move the collection outside the county borough.
A Cadw spokesperson said: "Cadw has recently met with the Royal Welch Fusiliers (RWF) and can confirm that the RWF Museum at Caernarfon Castle is remaining in situ.
"The Welsh government through Cadw continues to support the RWF Musesum financially and has not cut funding to the RWF."