Crunch Christmas: Job seekers talk about their search for work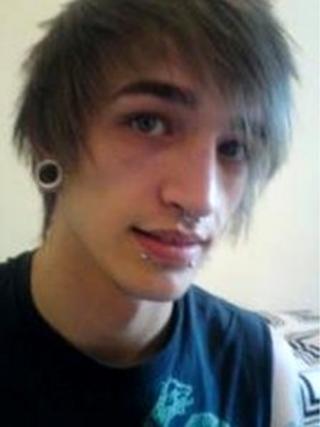 As the festive period approaches and people worry about the money in their pockets, BBC Wales is focusing on the economy in its Crunch Christmas series. Three job seekers talk about their experiences looking for work.
Paul Wintle, 19, lives in Pontycymer near Bridgend and has just been made redundant from his job as a sound technician.
"The last 14 months I was with a non-profit organisation running monthly music events and helping local bands and it was something I really enjoyed.
'Effort'
It wasn't something I really looked about getting into as a career. I've obviously always been interested in music. It's probably the most enjoyable thing I've done to date in my life.
Because of a lack of funding, I've been made redundant. I've finished work literally this week so I'm quite gutted about that - having to search for a job again and going through the stress of finding another job.
I've been to a few interviews. I'm finding it a little bit easier now.
Having the experience from working, and definitely from working for the last 14 months, I'm a lot more confident. I know what I need to get a job and how much effort you have to put in because people don't hand jobs out to you.
Every day I check the job centre website. I just check to see any jobs going. I've applied for about 20 jobs in the month's notice I've been given because of the redundancy but I've only heard back from two positively.
Nine times out of 10 you are totally ignored when you apply so you don't really know where you stand.
You've just got to try to keep positive and keep applying because there are jobs out there but they are few and far between so you've just got to keep at it."
James Thomas is a 22-year-old Cardiff University music graduate who has been unable to find work in his chosen field of music administration:
"I thought a degree is a great thing to have in terms of building wide skills but, also, as I got into my degree, I decided that music was the industry I wanted to get into.
When I was halfway through my degree and when the recession really started to hit I thought, it's great that I'm doing a degree now and hopefully by the time it's finished it will all be fine, but obviously that's not the case at the moment.
'Stay motivated'
The economy is stagnant and not much is happening.
I've been volunteering for a small opera company that I've worked with during my degree, and I've taken on a more full-time role and that's great experience, but getting beyond that is very hard - lots of job applications and rejections etc.
The arts industry has been hit very hard by the recession and the jobs that were there aren't at the moment so it's a case of waiting for the jobs to come up and applying when they do.
I'm relying on savings for the moment and hoping I won't have to do that for much longer but, in the future, I might have to rethink that.
It's important to stay motivated and to treat whatever you are doing as a job. That's what I try to do.
I'm keeping my options open to an extent. I don't want to get stuck in a job where I don't have the time to apply for thing I want to apply for but, at the same time, I need a job really.
I think it's very disheartening to not have much to do from week to week and you feel purposeless to an extent."
Nigel McDermott, 57, from Abertridwr, near Caerphilly, was made redundant 12 months ago from his job doing health and safety training in the construction industry:
"I decided that I needed to carry on doing this because there was nothing else out there.
I've tried at the Job Centre. They were offering me all sorts of jobs but I was way over-qualified for the types of jobs they was offering.
And I was too old. It's another disadvantage - although they don't say it, I was too old.
I approached Careers Wales to get a structure of what I wanted to do. They gave me a small grant which paid for me to go to Newco Training to do first aid. They also do teaching qualifications which run alongside it.
I decided I wanted to pursue this and do it as a part-time career because there's nothing out there full time. Employers are cutting back on their training needs - the reason I was made unemployed originally.
'Convince them'
I still do work for companies I used to work for because of my specialist qualifications but only on a part-time basis because the work isn't available full-time.
(Employers) don't tell you you're over qualified but they know they won't take you on because of your qualifications. Some of the people who are actually interviewing you, you've got higher qualifications than they have.
They're not going to take you on, thinking 'he's not going to stay with us, as soon as a job comes up that his qualifications match, he's going to go' - even though I tried to convince them that I'm here, I wouldn't be applying for the job if I didn't want it.
But I just couldn't get anything so I decided the route was to go self-employed.
I found I was wandering around trying to find work to do, really bored out of my mind. For someone who uses their mind, you've got to find something to do."