Crunch Christmas: Swansea fighting for retail revival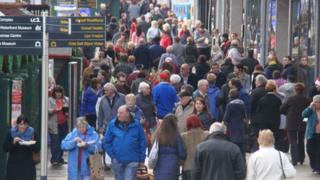 After 31 years of trading in Swansea Godfrey Doolan has just opened his second shop in the city centre.
It is not that Swansea is faring better than anywhere else during the current economic climate but the businessman believes retail will recover.
He says five years ago property prices and rents were too high for him to consider expanding but that has changed.
"I've certainly got confidence in the city and the city centre," said Mr Doolan, who owns the Moustache men's clothing outlets.
"The economic climate is not great and I think it's going to be quite flat for a year or two but I have lived through three recessions in business and I believe it will pick up.
"I think the back bone of any city centre is the independents because we offer diversity and difference and Swansea has got more independents than most cities and towns."
Earlier this year the Swansea branch of the Federation of Small Businesses warned the city centre was in a "dire" state.
It said road works, high business rates, parking, drugs and anti-social behaviour were all taking their toll.
'Lot to be done'
Swansea council held an emergency meeting of all councillors in July following a warning the number of people shopping in the city centre had been declining for several years.
A full review of what can be done to make the city a more attractive shopping destination is underway.
Federation branch chairman Julie Williamson said members had seen an improvement in recent months.
She said the police were addressing the crime issues while the council was promoting cheaper parking.
And she welcomed last week's announcement that the largely derelict St David's Shopping Centre is to be demolished.
"There is still a lot more to be done," she said.
Ms Williamson said there was still concern about the appearance of High Street - the main route to the city centre for those arriving by train.
"But people are trying - there are new small businesses opening up all the time - maybe at the end of the day that's going to be the saviour of the city," she added.
Business rates
Former Lord Mayor Richard Lewis has been appointed as the city's first "ambassador" to act as a direct link between traders and ruling councillors.
He said a number of measures had been introduced such as cheaper short-term car parking and free bus use for school children under the age of 16 over Christmas to encourage their families to bring them to the city centre.
He said the outdoor Christmas market on Oxford Street was proving popular and a number of vacant shops had been filled.
"There is no doubt times are difficult but at the end of the day people are spending money and the tills have been ringing quite merrily," he added.
"Swansea is really holding its own very well. We've got major shops that are trading well."
He said looking forward the council would lobby the Welsh government to cut city centre business rates and he wanted to see a drive to encourage more student residential accommodation in central Swansea.
There are still plans for a redevelopment of a large part of the city centre but they are unlikely to make major progress until the economy improves.
"Unfortunately Swansea stagnated for a long time and although we had many artist's impressions [of new developments] many never materialised," added Mr Lewis.
"But there are things we can do without spending vast amounts of money."