Elves gather in Bridgend to beat own world record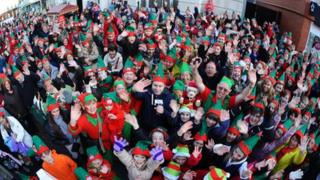 A south Wales town claims it has beaten its own record for the number of elves gathered in one place - with over 900 of Santa's helpers coming together.
Bridgend town centre was awash with people dressed in green and red tunics and pointy hats in the hope of becoming record breakers.
They succeeded in breaking the previous record of 720 elves, which was set last year.
New York had held the record but said it could not compete with Bridgend.
The American city had already admitted defeat this year, with Mayor Michael Bloomberg conceding in a recent letter: "It is unlikely that New York will have an opportunity to accept the challenge this year and we wish you continued success with your 2011 Elf-steddfod.
"Best wishes from the Big Apple."
To qualify as an elf, people had to turn up wearing their own red or green costumes.
Special elf hats were provided and there were prizes for the best turned out Santa's little helper.
In total 936 elves were recorded.
Town centre manager Rhiannon Kingsley said: "It's no fairy tale - we have beaten New York when it comes to elves.
"Our elves are all shapes and sizes - we have babies and grandparents all dressed up as elves.
"It's great fun and we will be back next year trying to break the 1,000 mark."