South Wales, Gwent Police helicopter laser pen warning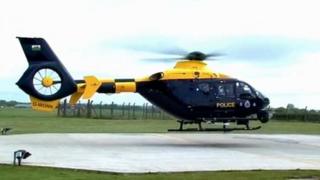 South Wales and Gwent Police have warned that they will arrest and prosecute anyone caught shining laser pens at the helicopter used by their officers.
Officers have released footage of a laser being shone at the aircraft.
Eight people have been convicted in the South Wales and Gwent Police areas for offences this year.
Pilots say shining laser pens at aircraft may seem like "innocent fun" but it could have devastating results.
Insp Gary Smart, of South Wales/Gwent Police air support unit, said: "People shine laser pens at the helicopter with no concept of the risks imposed to the crew and the public as a result.
"The reality is that shining lasers at the aircraft can have fatal consequences."
Insp Smart said police were taking the matter extremely seriously.
He said: "Our message to potential offenders would be: don't bother.
"Cameras and thermal technology in the aircraft makes it simple for us to locate where the lasers are coming from. We will find you and we will arrest you."
Figures showed said a number of the arrests for related offences this year were of young people, said Insp Smart.
"We're hoping parents will see this message so they can remind their children, if they have access to laser pens, not to use them irresponsibly," he added.
'Impedes vision'
Crew member Gareth Collins said every second counted when the helicopter was assisting with rescue operations.
"The laser beam impedes the vision of the pilot and the crew so we're forced to deal with the offender before we can resume helping people in danger or victims of crime," he said.
"People might think that this is just a harmless prank, but it prevents us from getting on with our jobs and helping the people who need us."
In August, a 21-year-old man from Ringland, Newport, was sentenced to six months at a young offenders' institution after he admitted recklessly or negligently acting in a manner likely to endanger an aircraft at Cardiff Crown Court.
The maximum penalty for recklessly or negligently acting in a manner likely to endanger an aircraft is a fine up to £5,000, and/or five years imprisonment.
Anyone with information regarding such incidents can call South Wales Police or Gwent Police via 101 or the independent charity Crimestoppers anonymously on 0800 555111.