Smoking ban for Welsh playgrounds and hospital grounds debated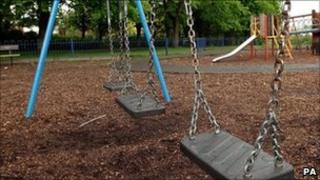 Smoking could be banned in playgrounds and hospital grounds as the Welsh government continues its drive to clamp down on cigarettes in public.
Proposals also include stopping people smoking on sports and school grounds, and a possible ban on smoking in cars carrying children.
The Welsh government said it wanted to stop second-hand smoke being breathed in. The British Lung Foundation said action was needed "urgently".
AMs debated the plan on Tuesday.
The new tobacco control action plan is part of the overall aim to cut smoking in Wales from a quarter of the population, its current level, to 16% by 2020.
That would mean more than 140,000 quitting over the next nine years.
'Bold step'
Health Minister Lesley Griffiths said she wanted to continue the work started by the ban on smoking in public places in 2007.
"Just as Wales took a bold step in creating smoke-free environments in public places, we have recognised that the time is right to champion new approaches to further protect children from the harms of second-hand smoke," the minister said.
Under the proposals, the Welsh government would:
Work with councils to introduce smoke-free policies for playgrounds.
Encourage hospitals to go smoke-free. In particular, it wants to stop people congregating at entrances from smoking, "where volumes of smoke may be high".
Ban smoking in areas where children are likely to congregate, such as school and sports grounds.
Reiterate First Minister Carwyn Jones' pledge to consider legislation to ban smoking in cars carrying children if a three-year public campaign fails to reduce levels.
Issue fixed penalty notices to retailers caught selling cigarettes to under 18s.
Improve services for those who stop smoking.
It said that powers are available under the Health Act 2006 to prohibit smoking in non-enclosed public places, provided it can be shown that significant numbers of people are put at significant risk.
Ultimately, it wants to make smoking more socially unacceptable to encourage people not to smoke and reduce exposure to second-hand smoke, it said in its report to AMs.
The British Lung Foundation (BLF) Wales said action was needed "urgently" to tackle smoking, which kills 5,600 people in Wales every year and costs NHS Wales £386m - seven % of its budget.
"What we really need to see is a genuine sense of urgency about tackling smoking," said Chris Mulholland, Head of BLF Wales.
"The plan promises a boost for smoking cessation services, but we need action quickly.
"These services, which help smokers quit, need to be at the centre of the NHS, not on the sidelines.
'Try it themselves'
"Almost 300 people a week need to quit, every week for the next nine years, if we are to drive down smoking rates to 16%."
ASH Wales, the campaigning public health charity, said children had a right to a smoke-free environment at home, in cars and in their parks and playgrounds.
"When children see adults smoking in a family friendly public place it "normalises" smoking, making children more likely to try it themselves," a spokesperson said.
"The perception that tobacco use is normal is one factor that encourages adolescent tobacco use. Smoking litter is also a major environmental problem with 90% of Welsh streets affected.
"It is also unfair to children because children can't always move away from other people's smoke and are unable to challenge adult smokers."