Wales school banding: Small primaries exempted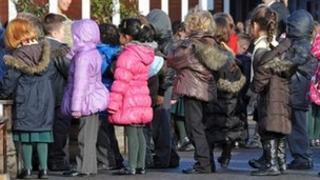 About 30% of Welsh primary schools will not be included in a new banding structure to monitor performance, it has emerged.
Education Minister Leighton Andrews says it will not be possible to produce a robust measure for small schools.
One teaching union leader said he was opposed to banding, which he likened to league tables.
Details of secondary school banding are due to be published next week, largely based largely on GCSE results.
'Greater challenges'
Unlike league tables which rank the best school down to the worst, the monitoring exercise is expected to group schools into just four or five bands, measured on the level of support needed.
Mr Andrews said: "When schools are small there will be very few pupils, or even sometimes no pupils, who contribute to the performance measures which are used in the calculation of banding.
"This means that a small school's performance measures will fluctuate markedly from year to year, and this could be as extreme as 100% or 0% in any year, depending on the capability of one or a handful of pupils.
"For this reason I shall be excluding the smallest schools from banding. It is simply not possible to produce a statistically robust and objective measure for schools this small.
"Initially we look at developing an approach of excluding schools who have fewer than 10 pupils contributing to the performance measures used in the banding. This represents around 30% of schools."
Teachers' unions have expressed mixed views on the use of banding.
Dr Philip Dixon, director of the teaching union ATL Cymru, has said previously that banding more than 1,400 primary schools in Wales would be more difficult than publishing data on the country's 220 secondaries.
He said the union would monitor the scheme and would support it if it lived up to a promise by the minister that schools would not be "named and shamed" for poor performance.
"The same would go for primary schools in that if this means more help and support for them, then we will welcome that," he said.
But NUT Wales secretary David Evans said the fact that small schools could not be included showed it was difficult to find a clear way to monitor primary schools.
'Not about labelling'
"Our view is that no school should be included in banding, whether primary or secondary," he said.
The primary performance measures will be based on teacher assessments at Key Stage 1 and 2.
Mr Andrews said: "I know there are concerns over the consistency of these assessments and the associated moderation processes.
"Over the next two to three years we shall be reviewing assessments and introducing new reading and numeracy tests which will be more robust."
He reiterated comments made in July, saying that "banding is not about labelling schools, naming and shaming or creating a divisive league table.
"It is about grouping our schools according to a range of factors to establish priorities for differentiated support and identifying those from whom the sector can learn."
School bandings for secondary schools are due to be announced on Thursday.