North Wales firms hit by 'brain drain', employers warn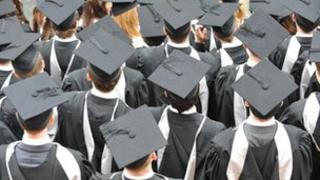 Employers in north Wales say talented staff are leaving for better jobs elsewhere, according to a survey.
The 'brain drain' is highlighted in a poll of 40 people from the public sector, charities and business who met in Llandudno last month.
They added that north Wales was too reliant on the power industry and public bodies such as councils and the NHS to provide work.
An European Social Fund project has been launched to tackle the issue.
Producing talent
Andrew Parry, spokesman for Glyndwr University in Wrexham, said he was not surprised at the survey findings.
"Over the years we have seen a lot of companies and businesses leave the area, either over the border into England, or to south Wales," he said on BBC Radio Cymru's Post Cyntaf.
"On the bright side it shows we are producing talented people, who can contribute to economic growth, so that reflects well on our education system.
"The next step however is to build on this and get more inward investment into the north, and the (Welsh) government has an important part to play in this."
Mr Parry added: "Large companies do want to come here because there are a lot of benefits to being here, and we have to build on these if we want more investment."
A project - Shaping the Future - has been set up to look into the issue.
It has been put together with investment from the European Union, Welsh Government, Anglesey and Gwynedd councils and the Nuclear Decommissioning Authority.
Project director Judy Craske said it was "worrying that there is a perception of a talent drain from north Wales and that barriers remain to attracting inward investment into the region".
"The goal is to create sustainable economic diversity across the region by putting human development at the heart of economic success and encouraging inward investment, business relocation and entrepreneurship," she added.