People with HIV still face stigma, say Aids Trust Cymru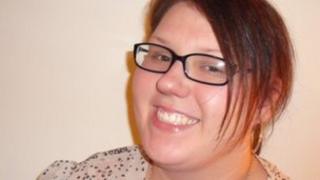 A help group for people with HIV/Aids says they are still being discriminated against because of lack of knowledge about the condition.
Aids Trust Cymru told the BBC's Eye on Wales on World Aids Day there was still a stigma based on "fear-led" ignorance.
It also said young people were at risk because they may not know enough about the condition to take steps to protect themselves.
There are said to be 1,300 people living with HIV in Wales.
Joanne Walker from Wrexham, who was 18 when she was told she was HIV positive, said: "My dad and my sister initially panicked and they became obsessed with the fact that there was some way they might catch it.
"At the time they sterilised and bleached everything, and removed razors and toothbrushes from the bathroom.
"If I walked round the house bare footed they'd ask me to put shoes and socks on.
"I then started to think if that's how my family are with me, how's the rest of the world going to be?"
Another person diagnosed with HIV told the programme how he had been threatened at work, and was forced to move out of his home after neighbours found out about his condition and made him feel unwelcome.
Wayne (not his real name) lives in south Wales and was told he had the virus in 1998.
He decided to tell only those closest to him, but others eventually found out.
'Threatening me with knives'
"A group of guys cornered me at work," he said.
"They were threatening me with knives and said they weren't happy about me working there.
"It was a scary environment as I was on a night shift and there was no management about.
"It was terrifying, and consequently I had to leave that job in a hurry."
Lynda Bevan from Aids Trust Cymru blames this kind of behaviour on ignorance and fear.
"The stigma exists because people still think they can catch the virus via toilet seats, via kissing, sharing a cup, eating with the same knife and fork", she said.
"It's fear-led, and that's why we need a campaign to say this isn't the case. The virus is not airborne.
"We're all vulnerable to Aids. It doesn't discriminate - it can be man, woman, teenager, old person. It can be anyone who is practising unsafe sex."
The most common way to get the HIV virus is through unprotected sex.
Shared needles
It can also be transmitted through shared needles, breast milk, and birth. In some countries it can be transmitted through blood transfusions, and in rare cases, through oral sex.
Because of the adverse reactions, many people with HIV choose to keep their illness secret, but Ms Walker said she was determined not to be bullied into silence.
She now gives talks and uses social media to spread the message about how HIV is transmitted.
"It's satisfying when I know I've helped other people", she told the programme. "People come up to me after I've talked at events, and tell me how much they appreciate it. The more you talk about it, the more normalised it becomes.
"I'd say everybody has an HIV status whether that's HIV negative, HIV positive or HIV untested.
"Unless you know your partner's sexual history, you're playing Russian roulette with your life."
BBC Radio Wales' Eye on Wales is available on the BBC iPlayer.