'Decade in doldrums' for Welsh economy, says IPPR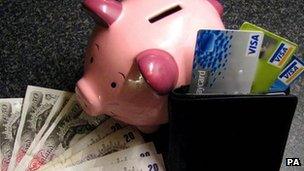 An economic think-tank is predicting a "decade in the doldrums" for the Welsh economy.
The Institute of Public Policy Research North (IPPR) predicts that by 2020, there will be 46,000 fewer people in work in Wales compared to 2008.
There are also expected to be thousands fewer in work than now, with Wales the only part of the UK to see such a fall.
The Welsh government said it was doing all it could to minimise the effects of cuts to its budgets.
The IPPR told BBC Wales' CF99 programme that the forecast was so gloomy because of the large number of public sector and manufacturing jobs in Wales.
These are the areas which have lost jobs early in the recession.
The higher levels of unemployment have a knock-on effect on other businesses such as restaurants and shops, which rely on people having money to spend in order to stay in business, according to the IPPR.
Official statistics show there are currently 335,000 people in Wales employed in the public sector, which is 25.7% of the working population.
Katie Schmuecker, senior fellow with IPPR North, said the research "paints quite a gloomy picture, a decade in the doldrums".
Wales was one of the areas to have been "hit hardest by the recession and austerity measures and, as a result, the recovery will take longer in those areas", she said.
The IPPR said that in every region of the UK apart from Wales, more people would be in work by 2020 compared to now.
It predicted Wales would actually see 8,000 fewer people in work by 2020.
The IPPR said investment was needed to stimulate jobs growth.
It has recommended innovation clusters, spending on transport infrastructure, an investment bank and tax incentives for businesses to invest in research and development and innovation.
CF99 has also analysed official figures revealing how some parts of Wales saw a substantial drop in average income over the last year alone:
Dwyfor Meirionnydd was named the area with the lowest average income in the UK.
In Bridgend, average incomes fell by 8.7% last year to £22,062.
In other areas, such as Brecon and Radnorshire, incomes actually increased by 9.5%
Overall, average incomes in Wales increased by 0.4% to £22,461.
A Welsh government spokesperson said: "These predictions are of course concerning but echo those made by the Office for Budget Responsibility yesterday [Tuesday], that claim the reduction in public sector jobs over the coming years will be considerably higher than previously expected.
"With a higher proportion of public sector jobs, Wales is bound to be hit disproportionately, but we are doing all we can to minimise the adverse impacts of the cuts to our budgets."
The Welsh government said it already had "a raft of measures" to support individuals and businesses to thrive, including preferred locations for enterprise zones and a £75m jobs growth programme for unemployed young people.
"Only last week we announced a £55m stimulus package to help create and sustain jobs and boost growth in the Welsh economy," said the spokesperson.
"We are investing the additional £38.9m from the UK government's decision to freeze council tax in England in measures including increasing skills and apprenticeships.
"In addition to the £1.3bn capital investment we are making in new hospitals, schools, roads this financial year, we recently announced a range of capital projects that will bring immediate benefits to the construction sector and create real opportunities for local suppliers."
There are also plans to invest in infrastructure projects, including "large, nationally significant" schemes.
CF99 is shown on S4C on Wednesday at 22:50 GMT.
Related Internet Links
The BBC is not responsible for the content of external sites.