The day I met Gary Speed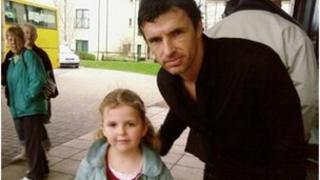 Tributes are being paid to the Welsh football manager, Gary Speed, after the 42-year-old was found hanged at his home in Chester on Sunday morning.
Before becoming Wales boss, he enjoyed a distinguished career managing Sheffield United and playing for a variety of clubs including Everton, Newcastle, Bolton and Leeds. He was also Wales' most capped outfield player.
The BBC has been contacted by many members of the public who had met Gary Speed and had personal stories to tell. Here is a selection of them.
Ron Cole, Chorley, England
As a Bolton Wanderers season ticket holder during the three and a half years that Gary Speed spent at the Reebok, he was by far the Wanderers most consistent player.
In every game he played he gave his absolute best. Not only that but he was a formidable opponent who played hard but fairly without any of the histrionics that a lot of top-class footballers seem to possess these days.
On and off the field at all times he set a perfect example for young and old alike.
His death is very sad. His life was that of a true professional. He will be sadly missed by all those who he touched in his football life.
I will treasure my Bolton Wanders Football Club player's jersey with Gary's name and number on it - he will not be forgotten.
Stephen Gerard Scullion, Gateshead, England
I am a former professional football coach. I met Gary while he was sponsored by a boot manufacturer - and a few times after that, too. He always had time to stop and talk to everyone - no matter who they were or what they did.
I remember taking some young lads for coaching, and after they had finished, Gary was still there watching. He only had to stay for a few photos but ended up watching them for over two hours in the pouring rain.
He also stayed to sign autographs and talk to them - even though he must have been very busy.
You can't buy that kind of respect from someone; I know, as I have met many a footballer who wouldn't give you or those coming through the time of day - but Gary would have and did.
I've met a lot of professional footballers throughout the world and he was one of the nicest I've met.
Steve, Chester, England
I am a big Leeds fan. I met Gary in a bar and bought him a drink.
I then saw him after when me and my son couldn't get tickets for a game.
I saw him and didn't think he'd remember me but he did. I asked if he could get me tickets thinking he wouldn't, he said he hadn't got any spare but would ask the other players.
I didn't think he'd get me any but he came out saying here's two guest tickets they're Eric Cantona's, I couldn't believe it - we watched the game.
He was so relatable. He was a class act.
Rob Dixon, Abergele, Conwy, Wales
I met Gary when he was playing for Newcastle. He was my mate's best man at his wedding but I didn't know him at all. I remember the day I met him very well.
He got me and my mate free tickets for a Newcastle game against Liverpool, even though I was going along to support the Reds.
We had to meet Gary before the game to get the tickets. Even though we were running really late Gary made the whole team wait for us. When we arrived at the place we chose to meet him we ran up to him.
I will never forget how down to earth Gary was and the look on the face of the then manager, Bobby Robson who was standing with his hands on his hips looking very unimpressed at having to wait for us as was the whole Newcastle team sitting on the coach looking on.
Thanks to Gary we got our tickets and got to the game. He was such a nice man. He even sorted our hotel and our night out in Newcastle afterwards. I couldn't believe it when I heard the news. He had such a great future and it's a great loss.
Chris Walters, Cheshire, England
I first met Gary when he was at Everton and he would always stop for a chat and pass the time of day about anything.
He was a true pro and a real gentleman. Perhaps the incident I remember most is at a Chester filling station.
I was having great trouble removing a very stubborn fuel cap.
He noticed, came across from the car in front and released it for me - getting me out of a scrape. I have many fond memories of him.
Rest in peace Gary. To his family all the warmest words in the world at this time. It is unbelievable and so tragic.
Mike Davies, Rhondda, Wales
I used to work security in the directors box at Cardiff City for many a season.
When Gary used to come to the games, he always had all the time in the world for us 'normal' people.
In the world of director lounges, this was a much appreciated gesture.
It is good to know that somebody so respected in the game had the time of day for you, whoever you were.