New suspected E. coli baby case at Singleton Hospital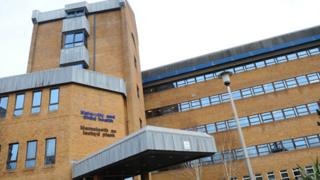 A new case of E. coli cross-infection is suspected at the Swansea hospital where two premature babies have died.
Abertawe Bro Morgannwg (ABM) University Health Board said on Friday that a baby at Singleton Hospital was affected.
The child, who does not show signs of illness, had been at the hospital in the past month and would be the sixth case in total if confirmed.
It is thought two ESBL E. coli cases were contracted in Singleton's maternity and neonatal unit itself.
The health board said these two cases were linked to three other confirmed cases of ESBL E.coli where the infection was contracted outside hospital.
One of these three cases was a baby who died in the neonatal unit.
One of the two cross-infection cases was a premature baby who died.
The health board said tests were underway to confirm the third suspected case of cross infection.
Deep clean
Healthcare Inspectorate Wales (HIW) has already said it is to review how officials responded to the antibiotic-resistant infection outbreak.
The health board had said the maternity and neonatal unit had undergone a deep clean. It had been hoped to fully reopen the neonatal unit on Friday.
Restrictions are to remain in place for the time being, with the unit only admitting babies over 36-weeks gestation, although the maternity unit remains open as usual for full term births.
In a statement, the health board said: "Checks of equipment and the environment in the maternity/neonatal unit have all been negative for the bug.
"The unit has an excellent record for hand-hygiene and general infection control adherence.
"Spot check audits of hand washing have reported 100% compliance, and reported infection levels in the unit have been below the national average in recent years.
"However, despite stringent hygiene controls these cross infection incidents have occurred, which we very much regret.
"Our investigations into the cross infection have not yet identified how the ESBL E. coli was transmitted, but we continue to do all we can to determine the cause.
"However, in other similar instances of this kind elsewhere in the UK the cause of transmission was never identified."