Public sector strike: Welsh authorities' disruption plans take shape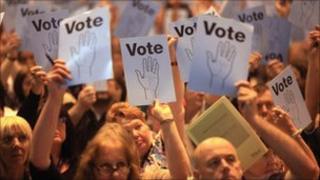 Councils in Wales are preparing for major disruption to schools and services when public sector workers strike on Wednesday.
Strikes are expected as part of UK-wide industrial action over proposed changes to public sector pensions.
The majority of schools in Wales appear to be closing while councils are focusing on key services.
The government says it needs to make changes to pensions because of an ageing population.
The exact number of people taking part in the 24-hour action will not be known until the day of the strike, but members of over 20 unions in Wales will be involved and councils expect major disruption.
Contingency plans
Union members will be at pickets across the country on Wednesday, with major marches and rallies being held in Cardiff, Carmarthen, Aberystwyth, Mold, Bangor, Haverfordwest, Llandrindod Wells, Swansea and Wrexham.
It appears the majority of schools in Wales will close, although, as of Friday afternoon, many were still to announce what they plan to do.
Parents are being urged to check with their children's head teachers for more information. Some local authorities also have lists of school closures on their websites.
Councils say they will focus on key services, like social services and meals on wheels, and some have put in place alternative dates for refuse collections if people's bins are not able to be emptied.
Council-run public transport may also be affected, although they will not know until Wednesday how many staff will turn up to work.
Cardiff Bus said it currently planned to run a partial service, albeit potentially restricted to major routes for a limited period.
The company said the strike could cause "major disruption, given that many people in Cardiff and the Vale may not be able to attend work, including for activities that are vital to the community, such as social care, medical care and emergency services".
"We are aware from customer feedback of other concerns, for example the ability to attend hospital appointments or visit sick relatives, and also concern from those who may not be able to attend work, but cannot afford to lose a day's pay in these very difficult economic times," it added.
Police forces and fire services said they had plans in place to deal with civilian staff striking to ensure front line services will not be badly affected.
North Wales Police said police officers would be answering 999 calls in its control room.
Front-line policing
"This will inevitably mean that some officers may be asked to perform different duties whilst the strike is under way, however any changes to duties will be kept to a minimum," Deputy Chief Constable Ian Shannon said.
"We are determined that front-line policing will not be unduly affected."
Gwent Police said some non-emergency services will be affected.
"Whilst front counter services in Newport Central Police Station will be unaffected, non emergency front counter services at all other Gwent stations will be closed to the public for the 24 hour period," it said.
Government buildings in Cardiff Bay and Cathays Park, Cardiff will open, although it is not known how many staff will turn up to work.
The assembly's usual Wednesday afternoon plenary session has not been scheduled next week and committee meetings in Cardiff Bay have been cancelled.
The Conservatives and Liberal Democrats say their assembly members will turn up for work as usual.
But Labour and Plaid Cymru AMs will not cross picket lines into Ty Hywel, which houses AMs' offices.
Plaid said its members and their staff will work elsewhere or in their constituencies.
Although clinical and medical staff in hospitals will work - the British Medical Association and Royal College of Nursing are not taking industrial action - some staff in hospitals will be on strike which would cause some delays.
Courts and driving tests will also be disrupted, but Cardiff airport said it was not expecting any disruption.
The UK government says it will not be calling on the Army to step in and it does not believe emergency services will be hit.
Ministers insist talks over the pension changes are still ongoing and therefore it is unjustifiable to take action now.
But the TUC, which is co-ordinating the strike, said on its website: "The government wants to make people pay more and work longer for a lot less. Despite hours of talks, ministers have yet to seriously negotiate."