Cardiff's Royal Hotel names bar after orphan abandoned on its doorstep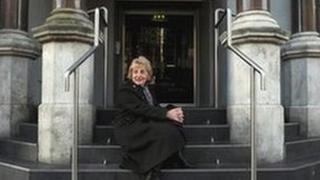 A pensioner abandoned as a baby on the doorstep of a Cardiff hotel has had the venue's new bar named after her.
Pat Fitzgerald was just three months old when she was left on the doorstep of the Royal Hotel in December 1939.
Seventy-one years on the plush new bar has been called Fitz.
Now a grandmother, she said: "The hotel is the nearest thing I have to a birthplace. I feel very honoured they have named a bar after me - it's lovely."
Deserved honour
A spokesman for the refurbished hotel said: "We are proud of our connection to Pat - she is a lovely lady who will always be a quite special to us.
"When we wanted a name our new bar after someone we could not think of anyone more deserving."
Mrs Fitzgerald was found on the hotel's doorstep on 15 December 1939 and spent several months in hospital.
Adopted by steelworker Peter Ross and his wife Edith, she spent a happy childhood growing up the Splott area of the city.
She was 27 before she learnt about her past and has since tried without success to find out more about her birth mother's family.
Speaking last year, Mrs Fitzgerald said: "I would guess my mother was a young woman whose circumstances must have been absolutely desperate to abandon me in the middle of winter."