Lesley Griffiths says no bail-out for health boards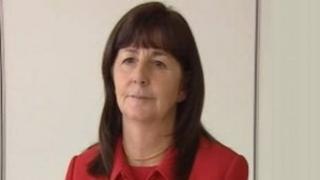 Health minister Lesley Griffiths says there will be no money to bail out the NHS in Wales if it goes into the red.
She said years of propping up local health boards (LHBs) were over and managers knew they had to come in on target.
Unlike previous years, LHBs will be getting funding up front to help them balance the books.
Plans to change the way services are delivered will make them more sustainable, the minister said.
Speaking on BBC Radio Wales, she was asked whether health boards would have to change their behaviour.
She replied: "Absolutely. As soon as I came into this portfolio back in May, that was probably one of the first conversations we had.
"Year on year, at the end of the year, they have always had to be bailed out.
Rising expectations
"What I've done this year is manage to get some money and they've had it earlier so they can look at their financial situation and I have had to spell out very clearly that they must come in on financial target this year."
She added: "We haven't got any more money and they know that and they really know that they have to hit their financial targets."
The current configuration of health services had to change because of an ageing population, the rising expectations of patients and tighter finances, she said.
Despite modest cash increases, the Welsh government's health and social services budget - its biggest item of expenditure - is in line for a real-terms cut in coming years.
Health boards have been allocated an additional £100m to ease the pressure on them.
Ms Griffiths said the ultimate sanction would be to replace a health board if it cannot handle its finances, but she said she did not foresee it happening.
Boards are preparing plans to reorganise and improve services, with the likelihood that some patients will have to travel further for certain specialist treatment.
Ms Griffiths told the Good Morning Wales programme it was time "to rebalance the delivery of many of our services and we also need to change people's thinking and behaviour".
But she stressed that district general hospitals will keep an "essential role".
The Wales Audit Office has warned that the NHS in Wales faces a tougher funding settlement than in the rest of the UK.