Western Mail could be taken over by government, says AM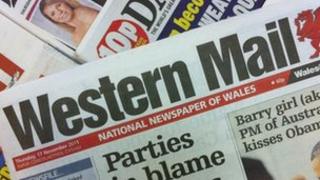 A Plaid Cymru AM has called for the Western Mail daily newspaper to be taken over by the Welsh government.
Bethan Jenkins said "radical thinking" was needed to save it from decline, amid claims that it may become a weekly.
She said the government could rebuild the circulation before handing it over to a not-for-profit co-operative run by journalists.
Owner Trinity Mirror said it was "not going to dignify this with a comment".
The company's Cardiff-based Media Wales division, which publishes the Western Mail, announced another 14 job losses on Wednesday, following 22 posts being cut during the summer.
Politicians and unions have expressed concern about the job cuts, claiming they damaged the newspaper group's ability to cover Welsh politics and public affairs.
Promote debate
Ms Jenkins put forward the case for temporary public ownership of the 142-year-old Western Mail in an article for the WalesHome website on Friday.
She wrote: "The time has come where we need to start thinking radical - really radical.
"So let's start with a suggestion - take the Western Mail into public ownership, reduce its cover price to little or nothing, and rebuild its circulation in Wales ready to hand back to a not-for-profit, journalist-run co-operative when it is fit and able to take over the reins.
Ms Jenkins went on to suggest that the Welsh government could spend £10m a year on the takeover, protecting 200 jobs at a cost of £50,000 each, claiming that some job-saving schemes had cost three times as much.
She said the takeover could look to the S4C model of editorial independence, accompanied by academic research into Welsh media tastes, and a commitment to expanding Welsh-language content and online coverage.
It would be "a chance to reset the clock and turbo-charge public debate in Wales", said the AM for south west Wales.
Soviet Russia
"It's an opportunity to re-engage people in what are their basic democratic rights."
The previous Welsh government provided funding to launch the Welsh-language news website Golwg 360 in 2009.
Ms Jenkins is a member of a group of AMs that are holding an inquiry into the future of the media.
But another member, Liberal Democrat AM Peter Black, said he disagreed.
"I am not in favour of a state owned press," said Mr Black, his party's heritage spokesman.
"Such a concept conjures up images of Soviet Russia."
"I think that the Welsh government has enough on its plate in trying to sort out the economy, education and the health service without asking them to sort out the problems of the Western Mail as well."
Parent company Trinity Mirror, owner of Media Wales, last week denied a claim by the National Union of Journalists (NUJ) that its members feared the Western Mail could become a weekly publication.