£2m for Merthyr town hall revamp into culture centre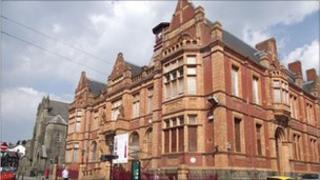 The Heritage Lottery Fund has awarded £2m to help repair the former town hall building in Merthyr Tydfil.
Plans have been put forward to transform the Grade II-listed building into a new cultural and creative industries centre.
The 113-year-old building has been derelict for the last decade.
The Welsh government has already pledged £4m towards the project, which is one of several put in place to regenerate the town.
The old town hall, built in 1896, was designed to house the town's civic functions and law courts and was once a focal point for political life in Merthyr.
It became customary for the results of parliamentary elections to be announced from the balcony.
It was used as a nightclub until 2002 after the council relocated to Merthyr's civic centre in the late 1980s.
Dan Clayton Jones, chair of the Heritage Lottery Fund in Wales, said: "The old town hall is the grandest building to have survived in Merthyr Tydfil's commercial centre and stands as a permanent reminder of the town's former status.
"This is a fantastic new venture that will bring a building back to life while responding to the community's need for a dedicated cultural centre."
The project has also received funding from the Welsh government, heritage body Cadw and Merthyr Tydfil council.
Public square
Clive Jones, a former local government officer who worked at the building until its closure, said: "The closure of the old civic offices was one of the saddest days in the life of the town.
"Now I'm looking forward to the building being restored to its former glory for future generations to enjoy our culture and heritage, and to be reminded of over 90 years of history as the centre of local government in Merthyr Tydfil."
Regeneration work in Merthyr, including a new public square and college green, is due to be completed by 2015.
Other projects include Theatr Soar, the Grade II-listed Soar Chapel which reopened as a performing arts and community centre in June.