Review into baby E. coli deaths hospital in Swansea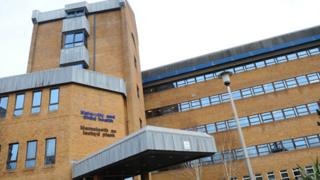 An external review is to be held into how a Swansea hospital handled an outbreak of E. coli which led to the deaths of two premature babies.
Five cases have been identified with ESBL E. coli and it is believed two were contracted in Singleton Hospital's maternity and neonatal unit.
Healthcare Inspectorate Wales (HIW) will review how officials responded to the antibiotic-resistant infection.
The Royal College of Nursing (RCN) says the hospital must review procedures.
An inquest has been adjourned into the death of Hope Erin Evans from Aberdare, who was five days old when she died.
Health Minister Lesley Griffiths is due to make a statement to assembly members on Wednesday afternoon.
'Safe and appropriate'
Abertawe Bro Morgannwg (ABM) University Health Board said the maternity and neonatal unit had undergone a deep clean and is open as usual for full-term births.
It added that the infection seemed to be under control.
But as a precaution it had temporarily restricted the unit to admissions for babies of 36-weeks and over gestation.
Paul Roberts, chief executive of ABM health board, said it had been agreed that HIW will carry out an external review of the management of the response to the ESBL E. coli cross infection in the maternity and neonatal unit.
"The purpose of this review will be to ensure that HIW is satisfied that the board has taken all reasonable measures to identify the cause of the cross infection," he said.
Cross-infection
Mr Roberts said it would also examine whether the management of the infections in conjunction with Public Health Wales had been effective, and that arrangements for the ongoing care of mothers and babies was "safe and appropriate".
"This review is expected to commence after we have concluded our own investigation into the two cases of ESBL E. coli cross infection."
Investigations being carried out at the hospital will include how cross-infection occurred in the maternity and neonatal unit.
Tina Donnelly, Director of the RCN in Wales, said every hospital has a responsibility to ensure that universal precautions are in place.
Hand washing
"When you have an infection, you identify the source as quickly as possible. I know the hospital are seeking to do that," she added.
One of the cases is a mother who has tested positive for ESBL E. coli but who has not shown any symptoms.
The board said it suspected she had contracted the bug within the hospital. Regarding the two babies, the board added that only one had contracted the infection inside the hospital.
Hope Erin Evans died on 4 November but it is not clear when the other baby died.
The health board said any mothers-to-be who have concerns or questions should speak to their community midwife in the first place. In addition a help line has also been set up: 07747 615627.