Anglesey ex-police worker sentenced for indecent mages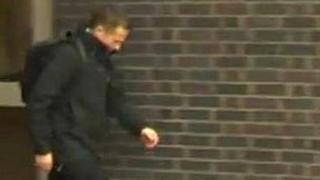 A former North Wales Police worker has been given a suspended jail sentence after admitting making and possessing indecent images of children.
Ian Williams, 45, a senior crime scene investigator from Anglesey, also admitted causing a child to engage in sexual activity.
He was sentenced to 52 weeks, suspended for two years, at Shrewsbury Crown Court.
The watchdog which investigated called it a "despicable" crime.
Williams, who pleaded guilty at an earlier hearing, was also given a five-year sex offenders prevention order and told he will be placed on the sex offenders register.
Judge RW Onions told Williams he was fortunate that he was being sentenced for what he had admitted he had done and not what the judge suspected he had done.
'Vulnerable girls'
The police watchdog, the Independent Police Complaints Commission (IPCC), said an investigation was carried out to see whether Williams had abused his position in the force, during which he was based within Western Division at Caernarfon.
He was dismissed from North Wales Police early in the investigation once sufficient evidence had been gathered.
"This was a despicable crime committed against young, vulnerable girls by a mature man who had a responsible position working for a police force," IPCC Commissioner for Wales Tom Davies said.
"The key focus for the IPCC investigation was to ensure that he had not abused his position within the police service to further his criminal activities.
"I am reassured by North Wales Police that there was absolutely no evidence that he did so."
'Sexual predators'
The investigation was carried out with North Wales Police and West Mercia Police, where Williams had committed crimes.
Det Ch Insp Alan Edwards of West Mercia Police said: "Sexual predators might think they are safe using a computer in the confines of their home.
"However, with modern technology they are likely to be found out and in due course, we will come knocking on their door."
North Wales Police's Det Insp Simon Williams added: "North Wales Police will take swift and decisive action to address such criminality whether committed by members of the public or members of staff.
"In this case Ian Williams was dismissed from North Wales Police early in the investigation once sufficient evidence had been gathered."