Daniel Morgan axe murder: Mother to meet home secretary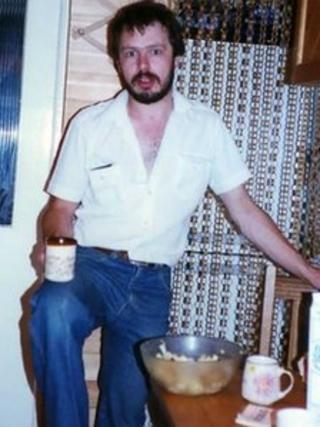 Home Secretary Theresa May has agreed to meet the mother of murdered private investigator Daniel Morgan, who has stepped up her fight for a judicial inquiry into his death.
Despite five police investigations, costing millions of pounds, no-one has ever been convicted of his murder.
Isobel Hulsmann, 83, from Hay-on-Wye, Powys, has vowed to get justice 24 years after her son was killed.
Mrs May will be the first home secretary to meet the family.
"Nothing will bring Daniel back but there's so much that can be revealed," Ms Hulsmann told BBC Wales's Week In Week Out.
Mr Morgan's murder, in south-east London, has been investigated on five occasions, including bugging suspects' offices and homes.
He was killed with an axe outside the Golden Lion pub in Sydenham in 1987.
'Accumulation of incompetence'
Four men were charged with his murder in 2008, but after 18 months of legal argument the prosecution collapsed in March 2011.
The family have fought for years for action, after making allegations that investigations had been affected by police corruption.
The Metropolitan Police now admit "police corruption was a debilitating factor" in the first, crucial, investigation in 1987.
Mr Morgan's brother, Alastair, told Week In Week Out: "It has been the conduct of the police, from the beginning to the end, and the accumulation of incompetence and corruption, that has led to the final collapse of the trial."
Last month, Ms Hulsmann travelled to London to try to see Home Secretary Theresa May and press her case for a judicial inquiry.
Ms May was unable to see her, but the family were told on Wednesday that they will be granted a meeting with her.
"I don't have time on my side, the years are going by quickly," said Ms Hulsmann.
"As home secretary, she has a duty towards us. The Daniel Morgan case has gone on too long."
Phone hacking
The family are also seeking answers as to links between the News of the World and the murder investigation.
It has emerged that in 2002, the man leading the fourth murder inquiry, a Det Chief Sup Dave Cook, was put under surveillance by the News of the World.
He and his wife Jacqui Hames were spied on by people working for the former tabloid.
Ms Hames will give evidence to the Leveson inquiry into hacking and the press. She recalls how disturbing it was to discover she was under surveillance.
"It dominates your life. Everything you do, everywhere you go is done with one eye over your shoulder," she said.
The News of the World alleged they were investigating a claim that Ms Hames and Det Chief Supt Cook were having an affair.
They were, in fact, married, had two children and had even appeared in Hello! magazine together.
"Clearly it was a ridiculous explanation," she added.
'Urgent inquiry'
Tom Watson MP, a member of the Culture, Media and Sport select committee which is investigating hacking, is backing the Morgans' campaign for a judicial inquiry.
"The Morgan family have not only gone through hell, but justice has yet to be done," he said.
"The Met themselves admit there was corruption at the heart of the investigation and I think it's really important we have an inquiry to get the facts."
Brecon MP Roger Williams also called for an "urgent inquiry" and has tabled an early day motion for debate in the House of Commons.
In it, he highlights a number of questions regarding the way Mr Morgan's murder was investigated.
Week In Week Out: Axe Murder Unsolved is on BBC One Wales on Tuesday, 22 November at 22:35 GMT