Another E. coli linked to Tir na n-Og Bangor nursery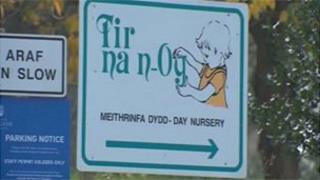 Health protection officials say a further case of E. coli 0157 has been linked to an outbreak centred on a Bangor nursery.
A total of three cases are now associated with Tir na n-Og nursery.
A playgroup in Bethesda in Gwynedd has closed as a precaution after staff learnt that a child who also attended the Bangor nursery had been ill.
An outbreak control team has been set up involving Public Health Wales, the local NHS and councils.
Public Health Wales previously confirmed that a child and an adult linked to the Bangor nursery had been diagnosed with the illness.
Officials stressed that no other children at the playgroup in Bethesda have become ill.
Tests have been offered to anyone who has been ill or their close contacts.
Closed down
Public Health Wales said parents are being kept fully informed and have been asked to collect samples from their children as soon as possible.
Nursery staff, and those in 'at-risk' groups who are close contacts of people who are unwell, will also be tested.
In October there was an outbreak of E. coli O157 linked to Tri Ceffyl Bach nursery in Amlwch, Anglesey. It was closed down indefinitely by its owners.
It is unclear if the two outbreaks are linked. Officials said previously that a possible connection was being investigated.
The outbreak control team includes experts from Public Health Wales, Gwynedd, Anglesey and Conwy councils, and Betsi Cadwaladr University Health Board.
Chris Whiteside, Consultant in Communicable Disease Control for Public Health Wales, said: "Investigations into this outbreak continue.
"We are writing to all nurseries in the area to highlight the importance of good hygiene practices and the need to be vigilant for children with diarrhoea," said Dr Whiteside.
Hygiene measures
"I would also like to ask parents to ensure that if their child has been unwell with diarrhoea they do not send them back to nursery until their symptoms have stopped for two days," he continued.
"E. coli O157 can have severe consequences for small children and as the illness can spread easily in nurseries and schools."
People can become infected with E. coli O157 by eating contaminated food, or through contact with infected people, farm animals or contaminated water.
"The infection can also pass from person to person and so it is important that anyone who is ill should observe strict personal hygiene to avoid spreading the infection," Dr Whiteside added.
E. coli O157 can cause diarrhoea, stomach cramps and fever.
The incubation period can range from one to 14 days, but is usually three to four days, and sufferers are usually ill for up to two weeks.