Baker Boys co-writer Helen Raynor on recessionary theme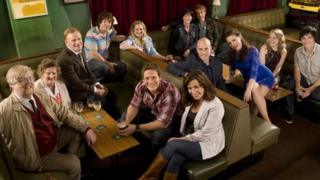 It's hard to imagine, with the economy bogged down in its worst recession for decades, that the writers of BBC Wales' drama series Baker Boys were once looking for a creditable plot device to allow them close down an industrial bakery.
The story of the workers' buy-out of the fictional Valley Bara Bakery dominated the show's first series when it was broadcast across Wales in January.
But when husband and wife writing team Helen Raynor and Gary Owen began to develop ideas for the drama in 2007, the recession had not yet hit.
"We had a sub-plot for some developers wanting to buy out the land and turn it into luxury flats," laughs Raynor, as the drama prepares to return for a second series. "Can you imagine that?"
The credit crunch came along at the right time for the series, which was originally conceived as a gritty, contemporary workplace drama.
"We were thinking partly about Tower Colliery," said Raynor, referring to the coal mine at Hirwaun, south Wales, which was famously bought in 1994 with its workers' redundancy money, "and what a great and inspirational story that was, which is where we came up with the germ of the idea.
"Then it all kicked off. The show started to have more of a contemporary relevance because of world events. But we're talking about a domestic drama, the livelihoods of people living in a very small place."
Accumulating debts
Baker Boys, which features a cast of well-known Welsh actors headed by Torchwood's Eve Myles and boasts former Doctor Who writer Russell T Davies as its creative consultant, is set in the fictional Valleys town of Trefynydd, where the bakery stands at the heart of the community.
In the second three-part series, the deepening economic slump begins to hit and the spotlight falls on how families are being affected by the constant erosion of job security and accumulating debts.
"Drama is very good at showing us the texture of life and of how complex our lives can be," says Swansea-born Raynor, whose previous writing credits include Doctor Who and Torchwood.
"I get quite irritated when I see news coverage saying people are in debt because they are either foolish or feckless, they don't know how to control their spending.
"The truth is that for an awful lot of us the goalposts have been moved. Seven or eight years ago people were chucking credit cards and mortgages at us like there was no tomorrow and it was all fairly do-able as long as you had some money coming in regularly.
"But things have changed. That freedom, if you like, isn't there any more and it's left an awful lot of people in trouble."
The pair researched their storylines carefully, says Raynor.
"One of our storylines does involve personal debt so we had a huge responsibility to get that right because that is an increasing problem for a lot of people," she explained.
Feedback
"So we talked to the Citizens Advice Bureau and ran various scenarios past them to make sure we were barking up the right tree."
The recipe appears to be working as Raynor says the feedback from the first series left her with the impression that viewers want more contemporary, real-life drama on the small screen.
"It made me wonder if that's an area that telly drama has strayed away from," she says.
"There's a lot of glamorous drama on the TV at the moment. Genre has been hugely successful over the last few years. That's wonderful. There are some fantastic genre shows out there - and there's a real value to that exciting escapist drama.
"But if you think back to the 1980s, when we were going through another period of social and economic upheaval, there were a lot of dramatic responses to what people were going, what we were going through as a society.
"As a viewer I'd like to see more of those and as a writer that's one of the things we feel very passionately about writing.
"A lot of real issues that an awful lot of people are facing are not getting the airtime that I think they deserve."
One real life "issue" that Raynor and Owen have had has been juggling their work on Baker Boys with bringing up their 16-month-old son.
"He's about the same age as Baker Boys," says Raynor. "He was born three weeks before we started filming, when we were still finishing off scripts for series one and all those last-minute things that you do.
"And then of course we had to start writing on the second series pretty much as soon as the first one had finished filming.
"Between me and Gary we've done nothing apart from looking after the baby and writing Baker Boys.
"It's been a bit like team tag. We're co-writing and obviously we're both parents. It's been: 'You take the baby and I'll write this bit of script' or: 'I'll take the baby and you carry on with that other bit of script'."
An idea, perhaps, for another TV show or a situation comedy?
"It didn't feel like a sitcom while we were doing it," says Raynor. "More like an Olympic sport or some kind of endurance test, really."
Baker Boys returns to BBC One Wales on Thursday 24 November at 21:00 GMT