Newport rock venue TJ's sale falls through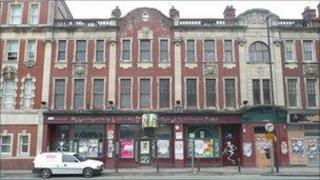 A south Wales club, which has hosted live shows from the likes of Oasis and Manic Street Preachers, is to go under the hammer for the second time this year.
The first sale of TJ's in Newport has fallen through.
The venue - where it is rumoured late Nirvana singer Kurt Cobain proposed to Courtney Love - closed in last year after its owner's death.
TJ's opened nearly 40 years ago before closing in 2010.
Paul Fosh Auctions has given it a reserve price of £175,000.
Managing director Paul Fosh said: "The property created a great deal of interest from right across the country and internationally when it was for sale last time, however, sadly that deal fell through, as happens sometimes."
Mr Fosh said it would be "great, romantic even" if a buyer continued to use the building as a rock venue but admits that is unlikely.
Keeping it a live venue was supported by Cardiff hardcore band Crossbreaker, who told the BBC Wales music blog: "A functioning venue of that size was integral over the past few years, to touring and local bands, especially those of an 'alternative' nature."
The late John Sicolo opened TJ's in 1971 and it was a favourite of the late DJ John Peel. But the club closed last year after Mr Sicolo died.
TJ's initially went up for auction in September and sold to a Cardiff bidder for £242,000, who planned to create a TJ's themed restaurant.
The auctioneer believes the building is a development opportunity.
Mr Fosh said: "The building needs plenty of work and, realistically, is much more likely to be acquired for use as mixed use residential and retail, subject to planning."
The auction will be held at the Park Inn Hotel in Cardiff on 8 December.