Denbighshire family court fight over £228,000 vase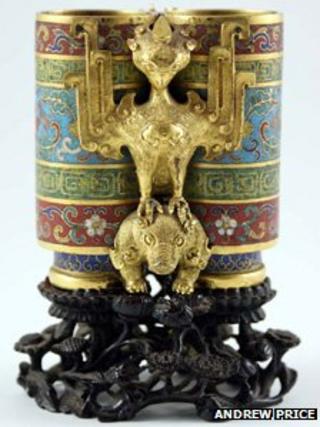 A woman who sold an "ugly" old vase at auction for £228,000 must pay back the windfall to her ex-partner's mother.
Mold county court ruled the rare Chinese antique was not Andrea Calland's vase to sell.
A judge ordered Ms Calland, who was once offered £375 for it by a dealer, to pay £190,000 to Evelyn Galloway, 74.
He stressed there was no question of dishonesty by Ms Calland but ruled Mrs Galloway still retained ownership, 18 years later.
The vase had been bought by Mrs Galloway's late father in 1956.
It was a Chinese Imperial gilt, bronze and cloisonne archaistic champion piece originally commissioned by the Chinese emperor or manufactured by craftsmen at the Imperial Palace in Beijing.
But it had been looted during the second opium war in 1860.
Mrs Galloway had it valued in the 1980s, when it was said to be worth in the hundreds of pounds, Mold County Court was told.
She had no idea the value had increased following the boom in interest in Chinese objet d'art.
Mrs Galloway loaned the vase to her son, Steven in 1990 when he and Ms Calland lived at a flat in Ruthin.
The couple took the vase with them when they moved houses.
Abandoned
They separated in March 2001 and it was not until 2008 that Mr Galloway, while looking after his children while Ms Calland was away, decided to look for it.
He could not find it and claimed Ms Calland would have known the historic importance of the vase.
The court heard claims that Mrs Galloway tried to speak to Ms Calland but she would allegedly put the phone down and had slammed the door on her.
Mrs Galloway did not know the vase had been sold at a Chester auction house until she saw a story on the front page of her local newspaper in November 2009.
She said the vase, which Ms Calland considered ugly, had historical importance and sentimental value.
She still had the catalogue from the original purchase and produced family photographs which had the vase in the background, the court was told.
After the police failed to take action Mrs Galloway sued.
But Ms Calland argued the vase had been abandoned and that after 18 years she was entitled to sell it.
A dealer had offered her £375 in cash for the Chinese vase but she took the view that he seemed keen to get rid of his money, and she put it in for auction, where the valuers put a reserve of £500 on it.
She believed it may have been an item she picked up as a student or that it had come from her own father.
If it had come from Mrs Galloway, then she argued via her barrister that after 18 years she was entitled to sell it.
Judge Seys Llewellyn QC said he did not believe Ms Calland knew the vase's worth.
Ms Calland left the court refusing to comment on the ruling.