Sacked boundary commissioner Paul Wood speaks out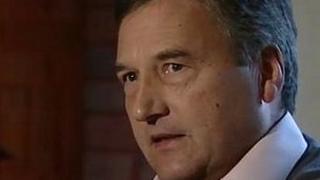 The former head of Wales' boundary commission, sacked after a report said it was not fit for purpose, says the public interest has suffered.
Paul Wood was dismissed as chair of the Local Government Boundary Commission for Wales by Local Government Minister Carl Sargeant in July this year.
The minister said it was necessary to restore the commission' s reputation.
Mr Wood told BBC Wales' Dragon's Eye programme local government had resisted moves to cut councillor numbers.
He was one of three commissioners relieved of their posts at the Local Government Boundary Commission for Wales.
The commission began a review of electoral arrangements across Wales' councils in January 2009.
An investigation conducted on behalf of ministers by the former head of the Electoral Commission in Wales, Glyn Mathias, found it had not commanded the confidence of stakeholders, while they had also failed to meet the timetable and made errors in their reports.
Commission chair Mr Wood - a former deputy chief constable of South Wales Police - says he and his colleagues followed the legislation and the directions of the then Local Government Minister Brian Gibbons.
These included guidance to aim at greater consistency in the number of electors represented by each councillor.
However when the commission started to produce their reports, recommending what he calls "modest" cuts to councillor numbers in some authorities," it became clear there was significant opposition from local government, he said.
Speaking publicly about his sacking for the first time, Mr Wood says he is "very saddened" by his experience and the reaction of politicians to the commission's proposals.
He says "in protecting a vested interest i.e. themselves, rather too many of them seem to have put their interests above those of ordinary people, the electors."
He added: "And that means that next May when the electorate go to vote in the [local] elections, they're going to be going in some cases with very unfair sets of electoral arrangements and I find that profoundly sad."
But Steve Thomas, the chief executive of the Welsh Local Government Association, said things "went badly wrong" and the commission published "nonsensical" draft proposals.
He tells the programme: "The whole credibility of the process was lost - stakeholders didn't buy into it, a range of councillors didn't buy into it and ultimately of course the minister himself didn't buy into it."
The commission's work was halted in December 2010 by Dr Gibbons' successor as local government minister, Carl Sargeant.
The minister dismissed all three commissioners - chair Paul Wood, John Bader and the Reverend Hywel Meredydd Davies.
'Turned a corner'
Mr Wood says that action was disproportionate and that the Welsh government had also been criticised in the Mathias report.
He says the commission proposed cuts to councillor numbers of 9-15% in some councils while other parts of the public sector were seeing 20% cuts.
He said: "They must be looking at those councillors who defended their vested interests so hard and saying is this entirely fair?"
"There's something really sad about that, where the people who are making the decisions are fighting their own corner so hard at a time when everybody's having to make sacrifices."
The Welsh government has appointed interim commissioners and in a statement said "the commission has turned a corner" and the "interim commissioners are forging a new relationship with local government".
"The minister will bring forward in due course proposals to address the detailed recommendations of the Mathias report on future policy related to electoral reviews."
Changes to the electoral arrangements of councils are now planned ahead of the 2016 local government elections.
Paul Wood and his colleague John Wood were also members of the Boundary Commission for Wales, responsible for reviewing MPs' seats, and submitted their resignations from that body following their dismissal from the local government commission.
That led to a delay in publishing what are likely to be highly controversial plans to cut by a quarter the number of MPs in Wales.
Due in September 2011, that announcement is now scheduled for January 2012 following the appointment of new parliamentary commissioners.
Mr Wood says they had to resign in view of the damage to their credibility so that potentially highly controversial proposals on MPs' seats would not be undermined.
Dragon's Eye is screened on Thursday on BBC1 Wales 11:35 GMT.