'Bright and beautiful' hymn mansion on sale for £2.25m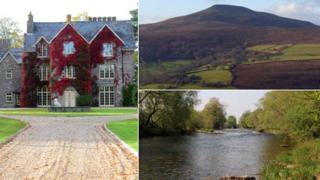 The Welsh mansion said to have inspired the Victorian hymn All Things Bright and Beautiful is for sale for £2.25m.
Cecil Alexander was a guest at ivy-clad Llanwenarth House, near Abergavenny, in 1848 when she penned her paean of praise for landscape and wildlife.
The Sugar Loaf and Blorenge mountains nearby are the fourth verse's "purple-headed mountains", while "the river running by" is the Usk in its valley.
Alexander, an archbishop's wife, also wrote There is a Green Hill Far Away.
But her more famous creation was the hymn praising "each little flower that opens" and "each little bird that sings".
It was included in her "Hymns for Little Children" book, which had 69 editions published in the 50 years after it was written.
Alexander was the wife of the Anglican Archbishop of Armagh. Her song of praise is still sung in churches and schools more than 160 years later.
A line from its verse was later adopted for the television series All Creatures Great and Small, based on James Herriot's books about a veterinary practice in the Yorkshire Dales.
Seven-bedroom Llanwenarth House, originally built in 1532, comes with six-acres (2.4 hectares), a detached coach house and an orchard and is advertised as having "stunning views".
A spokesman for Cardiff Estate agents Fine said: "Not many houses have such a selling point.
"But it is easy to see why Mrs Alexander was so inspired - the scenery surrounding the house is magnificent."