Cardiff Winter Wonderland to look for new central venue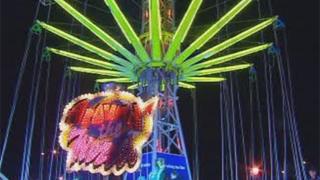 Cardiff's Winter Wonderland has opened for its 10th year - but it could be for the last time outside City Hall.
A conservation group has complained the open air Christmas fair and ice rink occupies historic gardens for too long.
City planners have asked the organisers to look for another site from 2012 but the attraction can go back to the same location if they do not find one.
Cardiff council said it earned £1m per year "and this is in no small way due to the spectacular setting".
Wales and Tottenham star Gareth Bale launched a new ride at the site on Thursday.
The city's winter wonderland has been a fixture of the city's seasonal offering to visitors and shoppers since it was launched a decade ago.
Gardens and statues
Sited on the lawns in front of City Hall in Cathays Park, and Gorsedd Gardens, the open air Christmas attraction includes a temporary ice rink and fairground rides.
But the city's central area conservation group has objected to both the location and the way councillors have rubberstamped the event's planning permission every year.
City Hall's lawns are designated historic parks and gardens which contain listed statues. They are within the Cathays Park conservation area and City Hall itself is a grade I listed building.
The first winter wonderland in 2002 was given planning permission in January the following year just three days before it finished.
Most events after that secured planning permission in the same month the festival opened, while in 2008 the ice rink and fairground rides were given the go-ahead for three years running.
When the 2011 fair came before planners on Wednesday, the conservation group's objection was that it was on a "completely inappropriate site and, yet again, this is a 'retrospective application' which makes the whole process a nonsense".
'Eyesore'
It added: "There is no reason why the application could not have been determined in advance of emplacement."
A report by planning officers said the fair had been given planning permission over the years despite its impact on the land due to its "benefits to the vitality of the city centre as a whole" and the reparation work carried out afterwards.
But it added: "However, it is considered reasonable in the light of the objection received, to ask the events team to consider if there are any alternative venues upon which the fair would be less disruptive."
Committee member Brian Finn said: "The committee agreed it's an eyesore and that it does detract from Cathays Park and City Hall and the museum.
"There should be an attraction there but it shouldn't be that imposing.
'Firmly established'
"I think Winter Wonderland is extremely important. The footfall proves that. What we're not doing it throwing them off the site.
"What we haven't prevented is them returning to City Hall next year and the year after.
"There are other places in the city centre, owned by the city council or the university, within Cathays Park. They are being advised they should seek an alternative site."
The attraction has got three year planning permission for outside City Hall until 2013, but planners have asked for an alternative site to be looked for in the meantime.
Councillor Nigel Howells, executive member for sport, culture and leisure, said: "The event is firmly established as a key part of the capital's Christmas offer.
"Alternative viable sites are being considered as an alternative venue for the future.
"However there would have to be considerable consultation and logistics work to be undertaken before that decision could be made."
Winter Wonderland runs until 2 January 2012 but its usual big wheel is replaced this year by a 60m-tall tower with 16 two-person swings.
Its dismantling is due to be completed by 13 January and new turf installed later in the month with City Hall lawns due to be reopen for public use on 28 February.