Broadband notspots 'hold back tourism in rural Wales'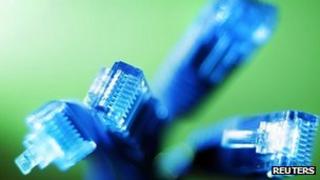 A lack of fast broadband in rural Wales is holding back companies' ability to compete, say tourism leaders.
The Wales Tourism Alliance said "tech-savvy" visitors expected make to bookings online and then to stay connected during their trip.
One Pembrokeshire hotelier has spent £8,000 putting in wireless broadband so he could provide guests with wi-fi.
The Welsh government said 1,700 people had applied for a scheme offering up to £1,000 to tackle a broadband 'notspot'.
Tourism chiefs spoke out as a firm offering a new form of satellite technology launches a roadshow in Wales, claiming it can tackle many of Wales' "notspot" and "slow spot" problems.
Much of Wales has the worst broadband provision in the UK, according to a survey by the communications regulator, Ofcom.
Poor provision
Bristol-based Avonline said its service uses a powerful satellite over Europe launched earlier this year to bring a guaranteed minimum 6mbps service.
The Welsh government's broadband support scheme offers help to people who are unable to access a 2mbps service.
Avonline said it was starting its UK promotion in Wales due to Ofcom's assessment of the poor broadband provision.
It said one in four Pembrokeshire addresses received less than the recommended government minimum broadband download speeds, while Furzy Park in Haverfordwest was listed as having the slowest in Wales for conventional wired connections.
Pembrokeshire hotelier Andrew Evans said he was forced to give up on telephone-based broadband and install a wireless broadband system - unrelated to Avonline - at the 46-room St Brides Spa Hotel in Saundersfoot.
He said: "A lot of corporate clients needed it so I put it in a couple of months ago.
'Frustratingly difficult'
"The broadband we had was costing me business. I could not afford to mess about - I had to provide a service to my guests."
Mr Evans, current chair of the Wales Committee of the British Hospitality Association, added: "We should have good broadband to be competitive with other destinations. We are falling way behind."
Chris Osborne, chair of Wales Tourism Alliance and owner of the Fourcroft Hotel in Tenby, said: "Tech-savvy visitors are increasingly using the internet for inquiries and bookings, putting tourism businesses in the many rural 'notspots' of Wales at a significant disadvantage.
"They find it frustratingly difficult to update websites and even reply to email.
"If this satellite broadband service can deliver what it claims, it will make a significant difference, not only to rural tourism businesses, but also their customers who demand good internet connections during their trip."
The Welsh government said there were more than 100 active applications from Pembrokeshire for its broadband support scheme, including five community schemes.
A spokeswoman said the Welsh government did not promote or endorse any individual company, system or technology within the broadband support scheme.
She said: "It is the consumer's choice which broadband technology solution is chosen."