Katherine Jenkins confronts online stalker on Twitter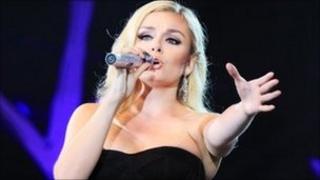 Singer Katherine Jenkins claims she has been plagued by an online stalker who has harassed her for more than a year.
The Welsh mezzo soprano, 31, spoke out after the person she calls a bully sent a question on Twitter for her during the BBC Two programme Something For The Weekend.
She claims the tweeter had taunted her over the death of her father from lung cancer when she was teenager.
In a tweet, she said: "It's time to stand up to you".
Ms Jenkins, who is engaged to Cardiff-born TV presenter Gethin Jones, said she had tried to ignore it but her patience had run out after the question was sent in to be read out on live TV.
She claimed the stalker had set up a false Twitter account in her name and taunted her over her father's death.
On her Twitter account, the Neath singer wrote: "Dear ******* I find it very sad that even as an adult u think it's ok to bully some1.
"Every1 is entitled 2 their opinion & I'm not under any false illusion that every1 is goin 2like me but u have no right to harass me as u've done over the past year with comments like 'bring out the dead daddy story again'.
"You've set up a false account in my name where u slate & destroy my character. After blocking you, you still tried 2 find a way 2get to me & this morning was 1 step too far.
"Sending in a question to be read on live TV (which didn't even make any sense!) to 'make me look clueless' is utterly pathetic & u clearly failed.
"I've tried to ignore you but after this it's time to stand up to you.
"The sad thing is you'll probably enjoy the attention which is why I haven't mentioned your twitter name but I know you know who you are."
Her decision comes after the UK government launched a consultation on Monday on tackling stalking.
A spokesman for the singer said: "Bullying of any kind is unacceptable.
"Katherine loves Twitter as it is one of the many ways she speaks and connects to her friends and fans.
"It's a shame that a minority use it as a way to cyber-bully".