University Hospital of Wales celebrates 40 years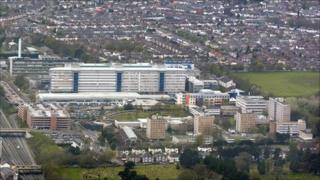 Wales' largest hospital is celebrating 40 years since the Queen officially opened the building to the community.
The University Hospital of Wales had its first patients on 19 November 1971, and now sees some 400,000 a year.
The hospital was one of the first in the UK to combine patient care with teaching medical staff on site.
Cardiff and Vale Health Board chief executive Jan Williams said the hospital had gone from "strength to strength" in health care and research.
Plans for a university hospital were first mooted shortly after World War II, and a number of sites were proposed.
Cardiff council offered the Heath Park site, which was chosen because of its ease of access from all parts of the city and beyond.
In 1953, the Welsh Board of Health and University Grants Committee devised the idea of an architectural competition to find a builder, but funding concerns prevented progress until 1959.
Work at the hospital site began in 1963 on the dental hospital, with the first dental students starting in 1965.
The main hospital building was begun in 1966, and took four years to build and another year to equip.
The hospital site has developed further in the years since, with the Children's Hospital of Wales opening next to the main building in 2006.
A total of 8,028 people work at UHW, including 1,040 medical and dental staff and 2,348 qualified nurses.
Approximately 400,000 people are seen at the hospital each year as in-patients, outpatients, emergencies at A&E and to give birth.
Mrs Williams said: "We owe a huge debt to those who designed and commissioned UHW and to all the staff who have played their part over the years in building its reputation for excellent care, training and research.
"Over the last 40 years, UHW has played an ever more important role in health care, both for the local population, and for people from across Wales, who have needed its specialist and tertiary services.
"These have gone from strength to strength and the hospital has a well deserved international reputation including the fields of dermatology, haematology and nephrology.
"Today, UHW is not only the focal point for everyday healthcare for local people, it is on the world stage for its collaborative research work with Cardiff University in fields including primary care, genetics and psychological medicine."