Welsh Labour vows to fight assembly electoral changes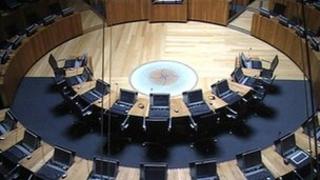 Welsh Labour will oppose any changes to the way assembly members are elected, if proposed by the UK government.
The number of MPs in Wales is expected to be cut from the current 40 to 30 at the next UK general election in 2015.
Welsh Labour's executive has agreed that if the number of Welsh assembly constituencies also drops to 30 to match new parliamentary ones, then they will fight the plans.
The Conservatives accused Labour of pursuing its own vested interests.
Welsh Labour said any change without a mandate was described as "deeply disrespectful".
But if this was forced through, it would campaign for an end to a proportional system.
Welsh Labour would favour two assembly members being elected by first-past-the-post for the 30 new electoral boundaries.
Shadow Welsh Secretary Peter Hain told BBC Wales programme, Sunday Supplement, that any proposed shake-up in Wales should not be imposed from Westminster without consultation and agreement with the Welsh assembly and voters whether in a general election, all-party agreement or by a referendum.
"This has to be done by agreement - this is the main point we are making," he said.
"You cannot fiddle with the voting system just to suit one party or another, it needs to be done by agreement.
"Our position is the current system should stay."
A joint statement was issued on Saturday by Mr Hain and First Minister Carwyn Jones after the meeting of the Welsh Labour executive.
'Brazen attempt'
It said the UK government had "absolutely no mandate" to change the voting system in Wales.
"Any attempt to do so without a clear mandate from the people of Wales would be deeply disrespectful to both them and the Welsh government," they said.
The statement calls on the Welsh secretary to rule out any changes to the assembly voting system without a mandate.
"However, Welsh Labour also realises the need for a clear position should the Tory-led UK government press ahead with proposals for change, to properly inform debate and push for an outcome that best serves Wales," said the statement.
"Therefore if, as expected, proposals for change are made along the 30 new parliamentary boundaries, Welsh Labour's preference would be for a 60-member assembly, comprising 30 two member seats.
"This position reflects the preference for first-past-the-post expressed by an overwhelming majority of the electorate in the referendum on the alternative vote for Westminster in May 2011."
Mr Jones and Mr Hain said the message from Welsh Labour could not be any clearer, while Labour was united behind a common goal of securing a voting system "that best serves the people of Wales".
A UK government source said: "Peter Hain has railroaded Carwyn Jones and Labour assembly members into accepting a position which they last week appeared to oppose.
"It's clear the First Minister can't do anything without Mr Hain's say-so."
He added: "Mr Hain's proposals would rob the assembly of proportionality in order to fulfil Labour's own vested interests.
"This brazen attempt to dictate the assembly's electoral system in their favour displays the same attitude Labour had when they changed the electoral system in the 2006 Government of Wales Act without consultation or a mandate."
He said that only a few months ago, Mr Hain was a cheerleader for the AV campaign and now because it did not suit him electorally he was portraying himself as a staunch supporter of first-past-the-post.
A Plaid Cymru spokesman said: "Labour seems intent on proving that they make all decisions according to what's best for Labour.
"The best interests of the people of Wales clearly do not even register with them."