South Wales Police chief Peter Vaughan on 80mph limit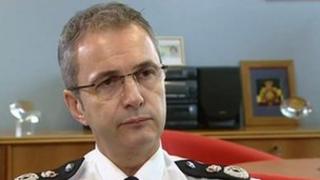 The chief constable of South Wales Police has spoken out against UK government plans to raise the top speed limit in England and Wales to 80mph.
The Department of Transport earmarked 2013 to raise the limit as it launched a consultation in September.
But Peter Vaughan believes the current speed of 70mph is sufficient on the UK's motorways.
He also backed devolving responsibility for policing from Westminster to Cardiff Bay.
On crime levels, he said the South Wales Police force was doing really well in reducing burglaries and robberies but he accepted the force has some way to go to convince the public that this was really the case.
On the speed limit issue, Mr Vaughan told the Politics Show: "I can see why people would call for a speed limit of 80mph, but for me 70 works at the moment.
"The science of speed is the faster you go, the more impact it has when you hit an object that is not moving.
"The plea that I would give is all too often I'm driving on the road and I see the matrix signs in the middle of the road indicating an advisory speed of 40mph and people pass my car at 70mph, sometimes even more.
"The signs on the motorway are put there for a reason - to give people advance notice of what's going on in front of them."
Technology advances
The Department for Transport said as many as 49% of drivers flout the current 70mph limit.
It also says advances in technology have made cars much safer, contributing to a drop of more than 75% in the number of people killed on British roads since the 70mph limit was introduced.
But Mr Vaughan said other methods have been used by neighbouring Gwent Police to help make the Welsh stretch of the M4 safer.
"As it goes to the Brynglas tunnels, the speed was reduced there to 50mph for a considerable period of time and the amount of accidents dropped," he said.
"Now we will see in the Gwent force area variable speed limits on that motorway with speed detection cameras.
"It will be interesting to see how the control of speed according to the circumstances that are faced will have an impact on accidents."
The BBC Politics Show is shown at the later time of 15:10 GMT on Sunday 13 November on BBC One.