William Roberts jailed for attack on partner's father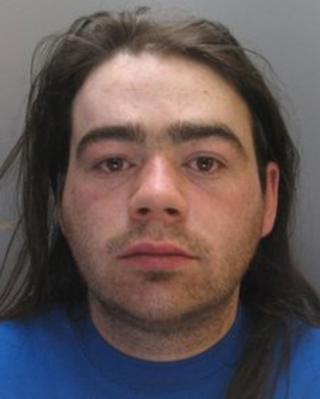 A man who punched and kicked his girlfriend's father repeatedly, leaving him brain damaged and partly paralysed, has been jailed.
William Roberts, 28, admitted grievous bodily harm with intent at Caernarfon Crown Court after a "cowardly" attack on David Turley, 54, an alcoholic.
Roberts, of Penmaenmawr near Conwy, was sentenced to six years and nine months.
His brother Adam Williams, 21, was also jailed for grievous bodily harm after inflicting the first blow.
Williams' counsel said his client had not expected the "sustained" assault carried out by Roberts on Mr Turley.
Williams, a chef, also of Penmaenmawr, was jailed for 21 months.
The court heard that Roberts, an engineer, had been in an "uncontrollable rage" when he attacked 22-year-old Carla Turley's father at the victim's home, where he also lived.
Earlier there had been another, less serious, assault on Mr Turley after a barbecue to celebrate the daughter's birthday.
Roberts was said to have snapped because of various pressures.
'Premeditated revenge'
The court was told Carla Turley, now of Llanfairfechan, tried to pervert the course of justice by lying to police that she had punched her father when the first assault occurred.
She received a 12-month suspended jail term, a three-month overnight curfew and must do 300 hours unpaid work.
Judge Niclas Parry said the brothers carried out a "cowardly, persistent, premeditated revenge attack on a vulnerable man".
It might have been prevented had the daughter not lied to the police to stop them arresting a man intent on violence that night.
Mr Turley had been deeply unconscious and is expected to need 24-hour care for the rest of his life, the prosecution added.