Supporters' trust takeover of Wrexham FC back on track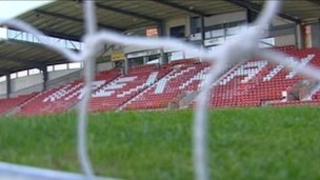 Wrexham FC says it hopes for an "era of stability" after legal issues which threatened to derail a takeover of the club were resolved.
A deal was agreed this summer with Wrexham Supporters' Trust, pending the approval of the football authorities.
But doubts over the takeover emerged this week after Wrexham raised concerns over "stringent" Football Association (FA) rules concerning existing debtors.
The club and the trust said on Friday the remaining issues had been resolved.
The FA had said its rules were clear and its requirements had not changed.
The latest hurdle in the long-running takeover bid came as the club's fortunes on the pitch had taken a turn for the better, with Wrexham top of the Conference.
In a statement on Friday, Wrexham FC said on its website: "The directors and Wrexham Supporters' Trust are pleased to announce that the last remaining issues between the two parties have now been resolved and all matters are agreed.
'New era'
"A joint proposal drawn up by our lawyers will now be put to the Football Association for their final approval which we hope, based on previous dialogue with the FA, will be acceptable."
A further announcement is expected early next week.
"We hope this will be the start of a new era that brings stability to the club and gives us the momentum to gain promotion this season, back to the Football League," the statement added.
Meanwhile, the new Wrexham-based north Wales rugby league side has been awarded a place in the Co-operative Championship One.
The North Wales Crusaders were formed following the demise of the Super League side Crusaders.
The team will share the Racecourse with Wrexham.