Edward Owen's 'lost' self-portrait on show in Gwynedd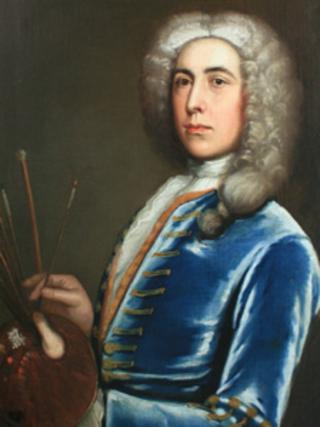 A painting thought to be one of Wales' oldest professional self-portraits is finally coming home for a one-off exhibition, more than 80 years after being given up as lost forever.
The 1732 portrait is of Edward Owen, the son of minor nobility from Penrhos on Anglesey, who was an apprentice in London with leading 18th Century artist Thomas Gibson.
Whilst Owen himself never got the chance to become a prominent figure in the art world, his letters home provide a complete primary historical record of 1700s life in the London art scene.
They also tell a tragic tale of a career cut short in its prime.
The portrait was rediscovered as part of a private collection in the United States by art historian Peter Lord, of Oriel Plas Glyn-y-Weddw near Pwllheli, Gwynedd.
It had last been spotted in public at the 1927 National Eisteddfod in Holyhead.
"While I was researching my book on Welsh art in 2000, I came across Edward Owen's letters at the National Library of Wales, then discovered even more of them at Bangor University," said Mr Lord.
"Before that Edward Owen wasn't really a name who anyone had heard of. He's mentioned in a book on Welsh art from 1912 - and of course there's the sighting at the Holyhead Eisteddfod - but nobody had the faintest idea what happened to the self-portrait after that date until it turned up in Massachusetts."
In fact only a bizarre set of coincidences led Mr Lord to the painting.
Shortly after it was published, a New York art dealer called Piers Davies happened to read Mr Lord's 2000 book, because he had Welsh ancestry from Montgomeryshire.
Portrait painting
Almost 11 years later, Mr Davies was asked to handle the sale of a collection of 18th Century New England art and furniture, following the owner's death.
But Mr Lord explains that when Mr Davies came to examine the lots, one in particular was not as it seemed.
"We'll never know the precise truth now, as sadly the owner isn't here to confirm it. But it seems very much as though the person who'd bought it believed that it was an example of early American artisan portrait painting, which is currently very fashionable in the US."
"That's certainly how it was described to Piers Davies.
"But when Mr Davies saw the piece, he recognised it as definitely 18th Century British, not American, and very possibly the missing Edward Owen mentioned in my book."
Once its true provenance was established, the portrait sold at auction earlier this year for an amount "well into five figures".
It was bought by an anonymous Welsh collector, who by way of thanks has agreed to loan it to the Oriel to headline an exhibition of Welsh artisan paintings which will run until 24 December.
Badly beaten
But whilst the sheer age of Owen's self-portrait makes it a significant work, it would not have been anything like as valuable had it not been for the letters to and from his family in Penrhos.
They seem to suggest that the Owen family were not particularly wealthy, and that it was a constant struggle for Owen to keep pace at a time of increasing gentrification in the London art world.
"When Edward took up his apprenticeship with Thomas Gibson in the late 1720s, painting was very much seen as a trade not an art," said Mr Lord.
"His family talk of their pride that Edward had found a solid trade, and his own letters mention the menial nature of his work; making frames and stretching canvasses.
"But towards the end of his time in London, in the early 1730s, painting becomes a much more upper-class pastime, and more and more money is required to keep up an apprenticeship."
But sadly there was no happy ending to Owen's story.
Some time during 1732, just months after completing his self-portrait, he was mugged and badly beaten while returning late at night from Covent Garden.
He survived but never fully recovered from his injuries.
'Fantastic insight'
"His last letters tell of how he was having to leave his apprenticeship and return to Anglesey, because his beating had left him mostly blind and deaf," said Mr Lord.
"We can presume that he got at least some of his sight back, as there are some examples of his paintings around Anglesey after his return, but it's fairly poor jobbing stuff, nowhere near the quality of his work in London before the attack."
Owen died in 1741, apparently from consumption.
Mr Lord added: "Tragically we'll never know how good Edward Owen could have been, but at least his name lives on in the fantastic insight into the 18th Century art world he left us in his letters."
The artisan painters exhibition runs at Oriel Plas Glyn-y-Weddw until 24 December, 10:00-17:00 GMT except Tuesday.