Diamond jubilee: Commemorative wood in Pembrokeshire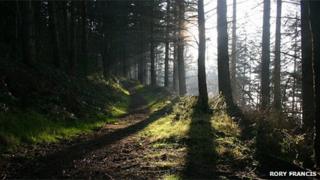 The first of thousands of trees have been planted at one of Wales' planned Diamond Wood projects.
Bluestone National Park Resort is to plant 35,000 trees at its 500-acre estate near Canaston Bridge, Pembrokeshire.
Coed Cadw, the Woodland Trust in Wales, wants to create at least three new 60-acre woods in Wales to mark the Queen's diamond jubilee in 2012.
It also hopes to create a number of smaller woods, many on private land.
The Diamond Woods project aims to see six million new trees create hundreds of woodlands of more than 60 acres across the UK.
Two sites in Wales, Bluestone in Pembrokeshire and Ffos Las racecourse, at Trimsaran near Llanelli, Carmarthenshire, have signed up to the scheme.
Prince Charles planted a commemorative oak at Ffos Las on his visit in June, while Army cadets planted around 900 trees there in March.
Preparation work on the ground is under way for the planting of around 45,000 young trees, mostly birch, ash and rowan, next year.
Bluestone said its work will see the two parts of the ancient Canaston Woods joined together for the first time in centuries.
'Saplings'
The native trees to be planted include ash, oak, rowan, hazel, wild cherry, guelder rose, hawthorn, crab apple, field maple, common alder, downy birch, blackthorn, alder buckthorn, elder, spindle and aspen.
Coed Cadw spokesman Rory Francis said the charity's Jubilee Woods project was set to provide more than 50,000 saplings to be planted by over 800 schools in Wales next year.
More than 100 community groups were expected to plant 24,000 trees to create a number of the smaller Jubilee Woods of up to 20 acres, he said.
He said: "We want to encourage people to plant a lot more native woodland."
The Princess Royal is to launch the Jubilee Woods project in Wales next week with a visit to a community garden in Cardiff created over three years by volunteers from a wasteland overgrown with brambles.