Helvetic's Cardiff-Zurich flight's Bristol stopover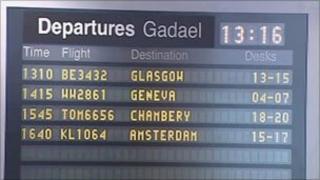 An airline's flights between Cardiff and Zurich will stop at Bristol, just 25 miles (40km) away, because too few tickets were sold in Wales.
It will add around 45 minutes to the flight in both directions.
Helvetic Airways said the stopover in Bristol would help business travellers and offer Swiss tourists a starting point for trips.
But Cardiff Airport said the airline had struggled to sell tickets in the opposite direction.
However, with the Welsh Government supporting the route through a marketing campaign in Switzerland, seat sales had been healthy from Zurich to Cardiff.
"Therein lies the issue here in why this particular airline is going to stop off in Bristol," Cardiff Airport managing director Patrick Duffy told BBC Wales.
"It doesn't have a problem in selling tickets for people coming into Wales, what it does have a problem with is selling tickets for people leaving Wales.
"Our decline in traffic is largely attributable to that particular issue."
Cardiff Airport said the Zurich service required support from Welsh travellers to convince the airline to operate directly without stopping over the summer season.
Cardiff has lost more passengers over the past three years than any of the other major regional airports in the UK.
Spanish airline
According to figures from the Civil Aviation Authority, in 2007 it had 2,111,148 and in 2010 it had 1,404,613, a fall of 33%.
However, Cardiff Airport said it was the only regional airport in the UK to attract two airlines in recent months in difficult economic conditions.
Besides Helvetic, it was announced last month that a low-cost Spanish airline is to start direct flights to Barcelona.
The announcement by the Vueling airline came two days before Bmibaby halted its services from Cardiff.
Independent travel expert Alan Bowen said it was always going to be difficult to attract enough passengers on the Cardiff-Zurich route.
Fast connection
"For business travellers, they really need a daily flight and with only three flights a week, that doesn't really make it viable," he said.
"It's very viable for people who want to have a short break in Switzerland."
Bruno Jans, chief executive of Helvetic, said: "With flights to Bristol, we develop our service in an economically strong region on the British Isles, providing many business travellers with a fast connection to Zurich.
"For Swiss tourists, Bristol Airport is an ideal starting point for individual trips."
With the stopover in Bristol from next month, the flight between Cardiff and Zurich will take approximately two-and-three-quarter hours.
Plaid Cymru's Neil McAvoy, deputy leader of Cardiff council, said the Welsh government needed to secure new business routes out of Cardiff.
He said the airport required routes to New York and Dubai, which would tie in with the new business district planned for Cardiff.