Dŵr Cymru Welsh Water reports £34m pre-tax profit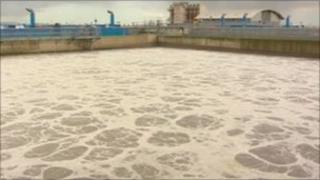 Dŵr Cymru Welsh Water has reported pre-tax profits of £34m for the year to September, compared to £42m last year.
The company says it will reinvest its profits in improving services for customers as part of a £1.3bn five-year capital investment plan.
Chairman Robert Ayling said Welsh Water was "performing well" despite the recession.
The company said the average household bill this year was £411, 2% lower than last year.
Mr Ayling said: "We have still more to do, particularly in improving the environmental performance of our sewerage network."
He said new advanced anaerobic digestion plants at Cardiff and Afan sewage works, which produce enough electricity to power 8,000 homes, were "good examples of what can be done".
The company is spending £137m to upgrade 39 water treatment facilities with Cilfor, Penycefn and Capel Curig commissioned this year.
Pollution incidents
Welsh Water also reported water quality results, saying that in the first nine months of 2011, 99.96% of samples taken for water quality compliance passed the required standard, equalling the standard achieved last year.
It also reported four "water quality incidents" reportable to the Drinking Water Inspectorate, down from nine last year.
But there has been no improvement in the number of less serious pollution incidents, with 207 in the last nine months.
Since 2001, Welsh Water has been owned, financed and managed by not-for-profit company Glas Cymru.