Belfast writer Lucy Caldwell wins Dylan Thomas prize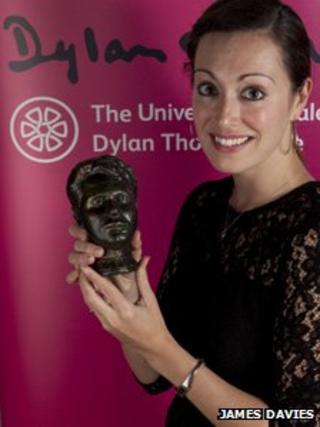 A Belfast-born author and playwright says winning the £30,000 annual Dylan Thomas Prize with her second novel is a "fantastic encouragement".
Lucy Caldwell was presented with her prize at a ceremony in the late Welsh poet's home city of Swansea.
Judges described her second novel The Meeting Point as "a beautifully written and mature reflection on identity, loyalty and belief in a complex world",
The prize is given to a young writer of a novel, play, poetry or travel book.
London-based Ms Caldwell, the fourth recipient of the award, beat competition from short-listed authors from around the world.
She said: "Being considered a worthy recipient is a fantastic encouragement.
"A writer's life is a bit of a patchwork. Piecing together little bits of money from here, commissions from there.
"The security of that cheque will help me write for the next while."
She said Wales had played a major role in getting her career up and running.
"In many ways my career started here. My very first play was premiered in Chapter arts centre in Cardiff," she said.
'Loyalty and belief'
"It was directed by Adele Thomas, and the Royal Welsh College of Music and Drama sponsored us to take it to the Edinburgh Festival Fringe and then brought it back to a few locations in Wales."
The Meeting Point tells the story of a Christian minister and his wife moving to Bahrain.
The founder of the University of Wales Dylan Thomas Prize, Prof Peter Stead, said: "The Meeting Point is a lyrical modern day parable set in Bahrain depicting the crises in the faith and marriage of an Irish woman and her relationship with a troubled Muslim teenager.
"It is a beautifully written and mature reflection on identity, loyalty and belief in a complex world.
"We have no doubt that this is yet another significant step in what will undoubtedly be a striking career."
Second novel
The other shot-listed authors were New Yorkers Benjamin Hale and Tea Obreht, who also won this year's Orange Prize for Fiction; Yorkshire-based first time novelist Annabel Pitcher and Jacob McArthur Mooney, a poet from Canada.
Wednesday's ceremony, which was hosted by BBC Wales broadcaster Jamie Owen, was attended by Dylan Thomas' granddaughter, Hannah Ellis.
Lucy Caldwell was born in Belfast in 1981. She read English at Queen's College, Cambridge and is a graduate of Goldsmith's MA in Creative and Life Writing.
The Meeting Point is her second novel and she is also an award-winning playwright, currently under commission to write for the main stage of the Royal Court Theatre.
Earlier this year, she was awarded the Rooney Prize for Irish Literature.
She was previously shortlisted for the first Dylan Thomas prize in 2006 for her debut novel Where They Were Missed.
Marc Clement, president of the University of Wales, said: "I hope that winning the £30,000 prize will allow her to develop her immense talent without the financial pressures faced by so many of today's young writers.
"The University of Wales Dylan Thomas Prize is intended not only to celebrate Dylan himself, but also to encourage, support and nurture talent in young writers worldwide, and it is this unique benefit that makes the prize one of today's most important literary awards."
First awarded in 2006 on a bi-annual basis, organisers announced the prize would be staged annually from 2010.